S4C chairman Huw Jones announces £3m digital strategy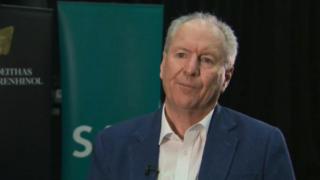 Welsh language TV channel S4C has announced it will spend £3m over three years on a new digital strategy.
The channel plans to improve its on-demand Clic channel as well as creating new digital platforms and formats.
It comes amid news that S4C could lose all of its UK government funding by 2022.
The broadcaster's chairman Huw Jones revealed details of the digital spending plan during a speech in Cardiff on Thursday evening.
He also said the current management team and S4C Authority would be replaced with a board of executive and non-executive directors.
The new management structure is expected to be in place by the autumn.
A UK government review of S4C recommended expanding the channel's remit from that of a TV channel to a "content provider", serving Welsh-speaking audiences on all platforms.
It also called for a unitary board, similar to the model adopted by the BBC in 2017.
The review argued that S4C's funding should come from a single source in future- the TV licence fee - and no longer splitting it between the UK government and the licence fee.
In his speech, Mr Jones said he recognised that relying on the licence fee would be controversial.
However, he said the current agreement with the BBC ensured both organisations could have a close financial relationship without sacrificing S4C's independence.