Siblings to run London Marathon for cancer survivor brother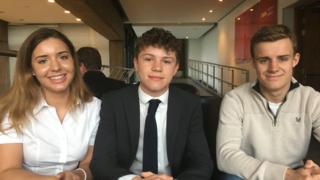 The family of a 17-year-old boy who survived a rare cancer are running the London Marathon to raise money for the charity which treated him.
Finn Torkington was 15 when he was diagnosed with Langerhans cell histiocytosis (LCH), a cancer which affects 50 people in the UK per year.
Now his father Jared, sister Amber and brother Archie will run the London Marathon on Sunday for charity.
The trio, from Cardiff, will be raising money for the Teenage Cancer Trust.
You might also be interested in these stories:
Five more inspiring London Marathon stories
Marathon runner's hero to join him at start
Marathon ban for diving suit man
London Marathon: How to watch on the BBC
When he was diagnosed with LCH - where cells designed to protect the skin called histiocytes travel around the body causing damage - two years ago, Finn chose to be treated by the Teenage Cancer Trust as he fell between the age range for child and adult care and support.
"It was unbelievable the amount of support they gave me, the nurses were incredible and hopefully with the money we've raised from the marathon we can make sure that more nurses are hired and to help people like me," he said.
"I felt like the whole experience was made so much easier by the people around me, the people in Teenage Cancer Trust and the nurses.
"I wouldn't say I looked forward to seeing them in the way that I'd have to go and have my chemotherapy. But they made it so much easier and it was a bit of fun to be honest."
Now completely recovered, Finn wanted to take part in the marathon himself to raise money for the trust, which is the charity of the year at the 2018 race, but was told he was too young.
"It's just really nice to be able to [run the marathon]," said Amber. "The Teenage Cancer Trust have provided so much support for Finn, it's so nice to be able to give back to them in any way that we can."
Speaking to BBC Radio Wales' Good Morning Wales programme, Archie added: "I think we're as prepared as we could be. It's been quite a nice week actually because we haven't had to do all the running.
"I heard some really good advice this week - just staying consistent to the 20-mile mark and then the atmosphere of the crowd will carry you over."
Finn is now studying for his A-Levels and said: "It's almost as if nothing ever happened to me."