Jeremy Corbyn makes St David's Day holiday election pledge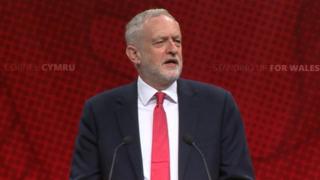 Jeremy Corbyn will promise to make St David's Day a national holiday if his party wins the next general election.
The Labour leader is expected to make the vow again during a speech on Monday.
If elected as the next prime minister, Mr Corbyn will pledge to create UK-wide holidays to mark the patron saints of England, Scotland and Northern Ireland.
Under his plans the Welsh Government would have to give its support for the extra days off.
It is not the first time Mr Corbyn has made the pledge to give workers a day off across the UK to mark the celebrations. He promised it ahead of the 2017 general election, but the party failed to get into power.
Under the proposals, UK-wide public holidays will be held on St David's Day (March 1), St Patrick's Day (March 17), St George's Day (April 23) and St Andrew's Day (November 30).
Each of the devolved administrations would have to give support to have all four of the public holidays across the UK, under his plans.
He will tell a conference in Bournemouth that Britain's workers deserve a day off.
Proposals to make St David's Day a public holiday in Wales have previously been floated by Welsh Labour, Plaid Cymru, the Welsh Conservatives, the Liberal Democrats and UKIP.