St Athan dad's bid to prove British citizenship for first holiday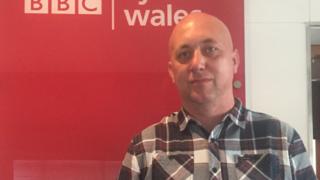 A father denied a passport after being unable to prove he is a British citizen has said time is running out to take his family on their first trip abroad.
John Ingram, 39, was born in Germany while his parents were serving in the RAF.
The father of two, living in St Athan, Vale of Glamorgan, said his birth certificate was rejected when he tried to get a passport for a trip to Spain.
The Home Office has been asked to comment.
You might be interested in these stories too:
Reality check: How do you prove you are British?
'Life without a passport is unbearable'
What to do if you are stranded
Fascinating facts about passports
Mr Ingram told BBC Wales he was born in a British military hospital in 1979 where his parents were serving and only spent two months in Germany.
He has lived in the UK ever since and has never held a passport.
But when he tried to apply to get one, the Home Office rejected his birth certificate as proof of identity as it was issued by the British Consulate.
'It's really upsetting'
He now faces being unable to go on the booked trip to Spain in June with his five-year-old son and daughter, eight, and partner Danielle, unless he can find more documents which prove his nationality.
"My daughter keeps asking if daddy is coming on holiday with us," he told BBC Wales.
"Even though I worked all my life, paying NI and tax, both my parents are British, I have been here for nearly 40 years, and I still have to try to prove I'm British.
"It is really upsetting, it would be our first holiday abroad. I know they tell you not to book before you have got your passport, but I didn't expect this."
His story comes amid the Windrush scandal, where some immigrants who came to the UK from the Commonwealth decades ago have been threatened with deportation or refused jobs or healthcare.
'How do you prove it?'
Mr Ingram said that the Home Office had wanted a German birth certificate as proof of his identity. But as he was born in a British military hospital he said "it doesn't exist, because I am not German".
"They keep moving the goal posts, they keep saying whatever I give them is not good enough," he said.
Mr Ingram said he had contacted his MP and had complained to the Home Office about the way his case was being treated, which has since been escalated.
But with the holiday approaching in June he says he is running out of time to get the situation resolved.
"It cost us a lot of money and she [Danielle] doesn't want to go unless we can all go together, but how do you prove you are British?," he said.