North Wales PCC: Football fans 'victimised' by laws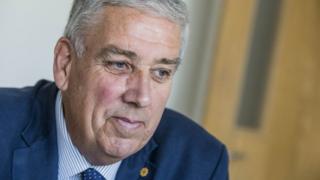 A Police and Crime Commissioner has said laws governing football matches are outdated and leave fans feeling "victimised".
Under current legislation, clubs in the top two divisions in the English league must have all-seater stadiums and alcohol cannot be drunk in the stands.
For some matches, fans can only attend if travelling on authorised buses.
Arfon Jones, North Wales Police and Crime Commissioner has called on government to rethink laws.
Mr Jones said: "The laws... place far too many restrictions on the freedoms of football fans compared to the followers of other sports."
The Football Supporters Act was drafted following the Valley Parade and the Heysel Stadium disasters.
It came into effect in 1989, just months after the Hillsborough disaster which saw 96 Liverpool fans killed.
The latter tragedy prompted an inquiry by Lord Justice Taylor which led the UK government to bring in all-seater stadium rules.
'Pack of lies'
Mr Jones claimed evidence given to that initial probe had been "false and misleading".
He added: "Football fans have been wrongfully victimised because of the pack of lies told to the inquiry and we should now be creating better legislation."
The commissioner said he has written to the Football Supporters' Federation for the matter be raised at the next meeting of the All Party Parliamentary Group for Football Supporters.
His comments come as a petition calling for safe-standing at matches is to be considered by MPs.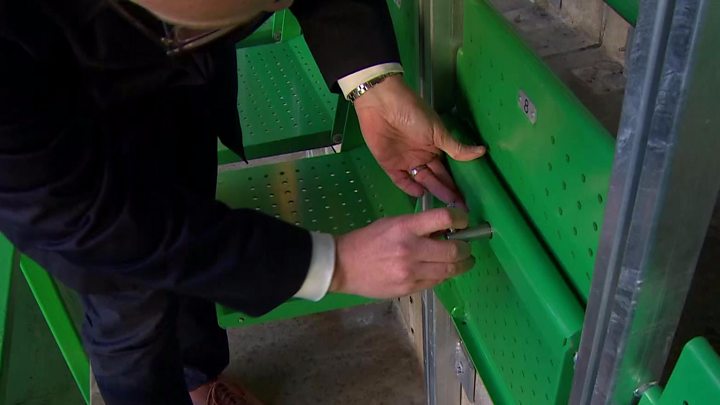 In recent years, so-called "bubble matches" have also taken place.
The system, which is not enshrined in law but is backed by police and clubs, means away fans can only travel to certain games on authorised coaches.
Keith Morgan, chairman of Cardiff City Supporters' Trust, said: "The current restrictions on fans are based on out-dated views of what football fans are like.
"We have long been in favour of safe-standing - or rail seating.
"And the restrictions around alcohol not being able to drink alcohol within sight of the pitch are odd when you consider that rugby supporters are allowed to do it."