Teen's Wales rugby exhibition wins her animation scholarship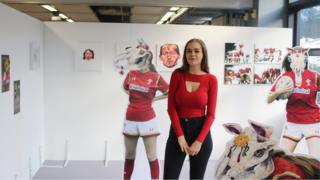 Heard the one about how JPR Williams helped an art student in Hong Kong win a scholarship created by the wife of Walt Disney?
Carys Feehan has only ever been to Wales on holiday, but she is certainly animated about her Welsh roots.
The 18-year-old's debut exhibition on rugby and Welsh culture so impressed the world-famous CalArts University in Los Angeles that they immediately offered her their most prestigious Lillian Disney Scholarship.
From September she will study Character Animation at the studios which have served as a production line for artists at the likes of Disney, Pixar and DreamWorks.
Born on Lantau Island, Hong Kong, to parents from Barry, Vale of Glamorgan, Carys grew up with tales of Eisteddfods and Grand Slams.
In her mellifluous part-Welsh-part-Hong Kong-part-American accent, she explains the obsession which has fuelled her creativity.
"Dad came over here to work on the new Chek Lap Kok airport and loved it so much that he never went back.
"But we always stayed firmly Welsh. There is a St David's Society of Hong Kong for Welsh ex-pats, which does charity work and social events, so I soon got obsessed with all things Wales - rugby in particular.
"Having lived in Hong Kong all my life, I've always felt somewhat estranged from Wales, but at the same time fiercely patriotic.
"It's that sense of disconnected pride which I tried to capture in my exhibition."
Created for her International Baccalaureate, Ms Feehan's collection spans painting, drawing, etchings and textiles.
The centrepiece is three portraits, of JPR Williams, Gareth Thomas and George North, incorporating embroidered battle-scars to lend a sense of 3D perspective.
Other works see players whose faces have been replaced with decorated Mari Lwyd wassailing horse heads, and a female player with Welsh mountains erupting from her shoulders.
She said: "The natural setting of Wales is striking and the country boasts a rich history and culture, from the mining communities to the farmers of the countryside.
"However, Welsh national pride is most overtly expressed through its national sport; rugby.
"By obscuring the faces of rugby players with Mari Lwyd skulls, I wanted to combine the symbols of old and modern Welsh culture, to further reiterate rugby's deep roots in our heritage."
But from the past, Ms Feehan's thoughts are now turning firmly to the future.
"I don't think getting into CalArts has properly sunk in yet, and especially winning the Lillian Disney Scholarship, who was such a talented artist in her own right.
"The thought that I could one day be creating the sort of characters with whom I grew up is thrilling.
"My sister's favourite was Woody from Toy Story, but for me it was The Princess and The Frog; the last of the great hand-drawn animated films."
However, before all that Ms Feehan has to quickly come down back to Earth with the small matter of her International Baccalaureate finals starting next week.