100 Welsh women honoured to mark 100 years of women's vote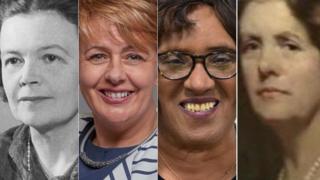 Wales' first female MP and a suffragette have made a list of 100 women who influenced Welsh life.
The list, announced on Tuesday, marked the achievements of 50 living women and remembered 50 women who have died.
Wales' Women's Equality Network drew up the list to mark the centenary of some women getting the vote.
The list of 50 late women will be shortlisted to five and one will be picked for a statue in Cardiff's Central Square.
The move follows complaints about the lack of public statues of women in Wales.
Wales' Women's Equality Network, which campaigns for women's rights, said the list featured women who had excelled in the arts, business, education, politics, social reform and sport.
The women on the list being considered for the statue include Lady Rhondda, otherwise known as Margaret Haig Thomas, who was born in 1883 and was a suffragette and businesswoman.
Others include Betty Campbell, an activist and Wales' first black head teacher who died in 2017, and anti-slavery campaigner Jessie Donaldson (1799-1889).
Megan Lloyd-George, the first Welsh female MP, and Betsi Cadwaladr, a Crimean War nurse who worked with Florence Nightingale are also on the list.
While they will not be considered for the statue, 50 living women also feature on the list.
They include Dame Shirley Bassey, poet Gillian Clarke, award-winning film maker Rungano Nyoni and actress Catherine Zeta-Jones.
Entrepreneurs Hayley Parsons, founder of the Go Compare website, and Rachel Rowlands, founder of Rachel's Organic Dairy Products, also made the cut.
WEN Wales director Catherine Fookes said: "Our 100 Welsh women have made great contributions to politics, language, culture and industry in Wales."