Chronic migraine trial 'could change' woman's life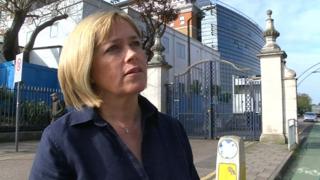 A Cardiff GP who had to quit her job because she suffered from chronic migraines is taking part in a worldwide trial in a bid to "get my life back".
The World Health Organisation sees chronic migraine as one of the most disabling illnesses, comparable to dementia and active psychosis.
It leaves most sufferers unable to carry out basic tasks.
Dr Anna Maclean is one of 800 people to receive the first of six monthly injections to halve the attacks.
"I lost my job three years ago because of it and I live with it most days," she said.
"It affects me more than 60% of the time. When I am migrainous I don't go out, I could be laid out for days.
"On a really bad migrainous day you can't function, that's the only way I can put it. As if you have a bucket on your head, as if you're desperately hungover, as if you've had four or five bottles of red wine. "
"But on top of that, I personally have pins and needles down my left side, sometimes difficulty getting out words, lack of concentration, my vision is not normal, just feeling very unwell."
One in seven people around the world suffer from migraine symptoms for more than 15 days a month and are classed as having chronic migraine.
About 50% of people who have already been through the trial saw the number of migrainous days each month halved.
The treatment in London is the first specifically designed for preventing migraine and uses antibodies to alter the activity of chemicals in the brain.
'Quite isolated'
"It would change my life completely," Dr Maclean added. "I could deal with 10 migrainous days a month, or eight. I'd rather none but you then have more normal days so you're able to recover quicker."
But she has been critical at the lack of expertise in Wales, having to travel to London for help.
"I wasn't able to access anybody with any expertise in chronic migraine in Wales which I felt was quite sad and and I wasn't aware of any support groups," she added.
"You feel quite isolated, you feel that nobody really gets it
A Welsh Government spokesman said: "We recognise the debilitating effect chronic migraine has on people's lives.
"We expect people who have neurological conditions including chronic migraine to have access to high quality care services as set out in our neurological conditions plan."