Wales needs another 550 foster families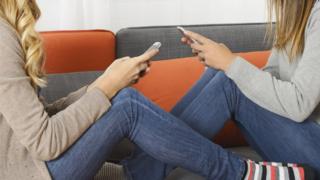 Wales needs another 550 families willing to foster children, according to a leading charity.
The Fostering Network said there was a particular need to find families who can take on teenagers or groups of brothers and sisters.
Across the UK, the charity said there was more than 8,000 families needed to take on a fostering role.
Jeannie, a foster carer from mid Wales, said fostering children was the best thing she and her husband had done.
"Foster carers do something amazing on behalf of our society, opening their hearts and homes to fostered children, often offering them their first experience of a stable, secure and caring home," said Colin Turner, director of The Fostering Network in Wales.
The charity warned that without new foster families coming forward, some children faced being split-up from siblings, while others are moved a long way from other family members, friends and school.
'MAKING A DIFFERENCE'
Jeannie, 68, who fosters for Ceredigion council, said she and her husband were proud to have looked after 35 vulnerable children and young people since 2010.
"I feel, in a small way, a difference is being made to their lives," she said.
"Some of the best things about fostering are the small victories that the children or young people achieve. The joy on their faces when they're feeding one of our orphan lambs or sitting down together for an extended family meal is amazing.
"A lot of the children or young people who have stayed with us continue to keep in touch which is wonderful and so rewarding.
"I feel we have positively impacted on a child's life just by being us. They witness our ups and downs, enjoy celebrations with us and hopefully take away our values and outlook on life.
"If you have a lot of patience, compassion and a sense of humour then I urge you find out more about fostering - it's the best thing we ever did."
The charity has urged anyone who thinks they might have the relevant skills to become a foster parent to get in touch with their local foster networks, to find out more information.
"Looking after fostered children, many of whom who have experienced trauma, abuse or neglect, can be challenging," accepted Mr Turner.
"But it is that challenge, along with the reward of seeing these children and young people flourish, that many foster carers across Wales say makes them proud to foster."