Betsi health board chief criticises 'misleading' Tawel Fan claims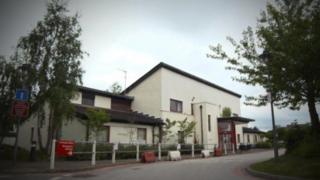 The head of the Betsi Cadwaladr health board has written to Welsh politicians defending the integrity of an independent inquiry into claims of abuse at a mental health ward.
It made major criticisms but found no evidence of institutional abuse at the now-closed Tawel Fan ward for dementia patients at Glan Clwyd Hospital.
Some politicians and some families had claimed a "whitewash" and "cover-up".
But Betsi's chief executive criticised "misleading" commentary and coverage.
The open letter to AMs and MPs from Gary Doherty gives a point-by-point defence of the report by Health and Social Care Advisory Service Consultancy (Hascas).
He said some comments in the coverage were what the health board "either knows to be untrue or feels to be misleading".
The points include:
Hascas had a 49-year history of providing "expert, impartial and authoritative advice" and the health board had confidence in its professionalism, credibility and work.
The inquiry was involved in "extensive engagement" with families, including meeting family members representing 35 patients while another 24 families did not wish to be interviewed.
It denied claims only medical records had been reviewed, saying this was "clearly" not the case and that it had looked at 500,000 pages of documentation.
On criticism that Hascas did not contact some families, it said invitations were sent out via the health board which had a detailed archive of letters sent and responses received.
On criticism that the panel did not engage with AMs, it said it had no record of any direct approach about further information which might be pertinent to their work.
It also said there was no evidence of tampering with clinical records and that the opportunity would have been almost impossible.
It denies that the inquiry report concentrates on positive and not negative findings, saying it was "strongly critical" of various aspects of the service both prior to the closure and now.
On calls for the health board to reject some parts of the report, Mr Doherty said it had "accepted in full" the findings and set about work to implement the recommendations set out within the report.
On calls for assurances that individual reports to families would not be delayed, the health board said it expects to start the first meetings by the end of the month and that all families would be offered a meeting by the end of July.
It also stressed that the second report by Donna Ockenden - still to be completed - was about the structure and systems of elderly care past and present not about care at Tawel Fan ward, which closed in 2013.
Analysis by Owain Clarke, BBC Wales health correspondent
The Hascas report into what happened at Tawel Fan ward was one of the most comprehensive and wide-ranging investigations ever held about standards of care in the Welsh NHS.
It took two and a half years and went back to look at the cases of 108 patients.
It highlighted many seriously failings in care of elderly patients, not only those at this 17-bed ward but across north Wales.
But crucially the investigation contradicted a previous review which found patients at Tawel Fan had been subject to "institutional abuse".
Hascas's unequivocal conclusion was that did not happen. Instead, the panel gave an account of staff struggling to provide "good care" in very difficult circumstances without enough support.
It is that finding that some families and some politicians have found very difficult to accept.
Ever since it was published some have openly attacked the investigation's integrity and methodology.
This letter is an attempt by the boss of the health board, in the strongest possible terms, to defend the investigation and the investigators.
In a sense it is a highly unusual plea to politicians.