Prestatyn man waited a year for benefits appeal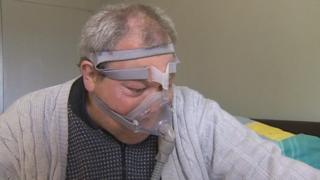 A man with cancer who had his disability benefits stopped had to wait more than a year for an appeal hearing.
Alan McKittrick, 65, from Prestatyn, had to take out a £1,000 loan after his Disability Living Allowance (DLA) was withdrawn in October 2016.
He will now receive the Personal Independence Payment (PIP) after winning an appeal against the decision.
HM Courts and Tribunal Service said it sympathised with him and was working to speed up the process.
Mr McKittrick has numerous conditions, including prostate cancer, diabetes, angina, and sleep apnoea.
But when he applied to receive PIP, which replaced DLA, he had to wait 56 weeks for a hearing so he could prove his disabilities.
He won the appeal in April and has since received about £8,000 in back payments, but said the wait left him struggling to pay his bills.
"I still had to pay my bills, they are twice a fortnight," he said.
"By the time I paid all my money out I had nothing left for myself."
His case was raised in the House of Commons last week by Labour MP Chris Ruane during Prime Minister's Questions.
Mrs May said the government was "looking at the whole PIP process" but added: "If he wants to talk about health, he should talk to the Labour government in Wales."
Mr Ruane said the benefits system needed a "vast change" and was creating a "hostile environment" towards people with long term conditions and disabled people.
The Vale of Clwyd MP said Mrs May showed "no sympathy" towards Mr McKittrick.
HM Courts and Tribunal Service said it was trying to improve the system in Prestatyn and speed up the process of hearings, including by using technology.
A Department of Work and Pensions spokesman said: "We are committed to ensuring that disabled people get the support they're entitled to.
"Decisions for PIP are made following consideration of all the information provided by the claimant and their GP or medical specialist."