TV presenter 'bit stupid' catching runaway racehorse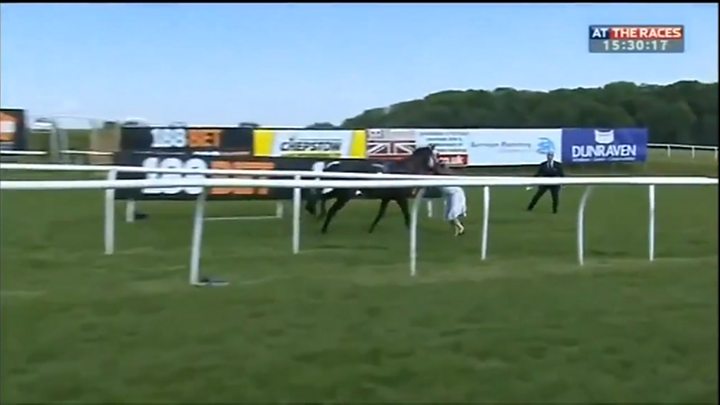 TV presenter Hayley Moore has described the heart-stopping moment she caught a runaway horse at Chepstow Racecourse.
Racehorse Give Em A Clump was on the loose after unseating its rider - before evading stewards for almost four miles.
At the Races presenter Ms Moore stepped in and brought the half-tonne animal to a standstill, although she admitted it was possibly a "bit stupid" move.
She said: "I just thought it was now or never."
The drama unfolded at the Welsh course's 15:15 BST race when rider Fran Berry fell off.
Ms Moore, the daughter of horse trainer Gary Moore, said she had become concerned for the horse's welfare.
"It had already done a couple of laps of the racecourse, which is quite a long way at Chepstow," she added.
"Horses will get eventually exhausted. He was just running on his adrenaline and already had done a lot of exercise and it was very warm day - so I just thought I'd go for it."
As the horse ran towards her, Ms Moore managed to grab its reins before being knocked to ground - but clung on before bringing the gelding to a halt.
She said: "It was the quickest moving horse that I've tried to catch, hence me falling over when I did it.
"I'm pretty strong, pretty sturdy..... but it was probably a bit stupid to be honest with you."
After capturing the horse, she then dusted herself off, took its saddle off before going back to her day job.
She quipped: "My boss thought it was remarkable... and said it should be a new way of testing screen presenters."