Skills gap 'challenge' for Welsh TV industry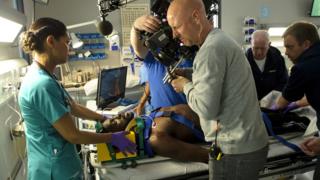 The Welsh TV industry faces an "enormous challenge" in recruiting enough skilled workers to meet growing demand from new productions.
BBC and S4C bosses told the assembly's culture committee there needs to be more training opportunities.
AMs are conducting an inquiry into film and high-end TV production.
BBC Cymru Wales director Rhodri Talfan Davies said it was in the interest of the production sector to "get the skills gap sorted".
He told the committee that Wales had developed a good reputation for drama production, but the demand for skilled workers needed to be addressed by industry and the Welsh Government.
He said: "It is in the interest of broadcasters to address the skills gap because we want to commission the best people, and the best-equipped people."
Mr Talfan Davies said it was in the interests of the Welsh Government to support it "because they want economic growth and greater employment. It has to be a holistic approach".
BBC Studios, the BBC's commercial production arm, is responsible for Wales-based dramas including Casualty, Pobol y Cwm and Doctor Who.
The shortage of skills was underlined by Simon Winstone, the head of drama for BBC Studios in Wales.
He told the committee that "we have shortages across every single department".
"It is an enormous challenge ahead for us, I think, but one that we are embracing," he added.
The committee heard evidence that S4C had been "innovative" in its approach to increasing the number of dramas it commissions, while facing budget pressure and huge competition from other broadcasters.
But the channel also had concerns about the skills available to support the boom in drama production.
S4C chief executive Owen Evans said the skills shortage was something ministers needed to address.
"The role for government is to say, look, this is an important sector. This is what we will try to support and develop."
Mr Evans added that reduced budgets in previous years had forced a consolidation of the production industry, reducing the number of freelance staff available to work on TV and film productions.
"We need to recognise the skills deficit we have, but we also need to work out how we are going to sustain the sector to provide a living for these people all year," he said.