Wandering Tregaron pine marten found 60 miles from home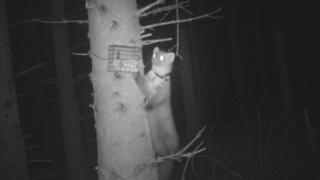 A wandering pine marten surprised experts by setting up a new home, 60 miles from where he was reintroduced.
He was caught on camera in Clocaenog Forest near Ruthin, Denbighshire, about 100km from the Ceredigion forest where the animals were relocated in 2015.
The male was first snapped in May 2016 and has stayed there ever since.
Dr Jenny MacPherson of the Vincent Wildlife Trust said: "He's obviously found everything he needs - that usually means a mate and food."
The pine marten project manager added: "It may be another female already there - we would expect he'd need a reason [to stay].
"It would be very sad if he was up there on his own for the past two years."
The pine marten was photographed by cameras set up by Red Squirrels Trust Wales to help monitor the squirrel population.
The pine marten - known only as number three - is microchipped and did initially have a radio collar, but it has since been removed.
Dr MacPherson said the animals could travel five miles in one night when hunting and territories for males could be up to 11.5 sq miles.
"We were slightly surprised [he left] but very surprised he stayed there for a few mating seasons. A lot of them in the first year had a bit of an explore and went back to where they were released, but he was the only one who went north," she added.
Red Squirrels Trust Wales ranger Becky Clews-Roberts said: "We actually had more images of the pine marten than red squirrels - he really had the roam of the forest."
Pine marten fact file
Relatives include weasels, polecats and otters
Similar in size to a small cat
Diet includes small mammals, fruit, birds, eggs and insects
Mate in July and August and up to five young (kits) are born the following spring