Sculptor Sean Edwards Venice Biennale choice for Wales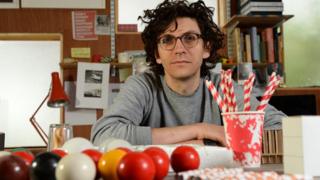 The award-winning sculptor Sean Edwards has been named as the artist to represent Wales at a prestigious art exhibition in Italy.
The Cardiff-born artist will put together a collection for next year's 58th Venice Biennale.
The Arts Council of Wales, which has commissioned him, said it would be his "most ambitious" work to date.
Wales has had a presence at the Venice Biennale since 2003, with next year's event running from May until November.
You may also like:
Mr Edwards said: "To have the opportunity to produce the exhibition I proposed during the selection process is one thing in itself.
"To be able to do this under the banner of Cymru yn Fenis-Wales in Venice is an opportunity almost beyond belief."
Edwards is a former recipient of the Arts Council's Creative Wales Awards, and won the Gold Medal for Fine Art at the National Eisteddfod in 2014.
Born in 1980, he graduated from Cardiff School of Art and Design before going to Slade School of Fine Art in London.
Though best known as a sculptor, he also works to combine objects with film, video, photography and performance.
His biennale exhibition is described as a "poetic enquiry into place, policy and class, intertwined with personal histories".
The exhibition will be led by the Wrexham community arts venture, Tŷ Pawb, which will be working with the international arts curator Marie-Anne McQuay.
It is being funded through the Arts Council and Welsh Government.
The Art Council's chairman Phil George added: "Sean is a brilliant artist who will put Wales firmly on the map in this, the most prestigious of international festivals."