Leanne Wood: Abuse aimed at women 'worse than ever'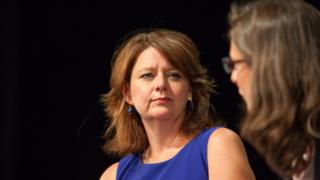 Plaid Cymru leader Leanne Wood said the current level of abuse aimed at women is the worst she has seen in her political life.
Ms Wood has been targeted by online trolls several times since becoming the first woman to lead her party.
She blamed a "backlash" against feminism which has fuelled online abuse of prominent women.
She said women had a "responsibility" to speak up when they see others being targeted online.
Speaking at the Hay festival, Ms Wood said: "I am seeing more misogyny now than I have ever seen in my political life.
"This seems to be a phenomena of today. It seems to come out online, on social media, but it seems to be reflecting something else that is going on in society."
In July 2016, a man was jailed for 12 weeks after making references to rape in messages to Ms Wood as she appeared on a TV debate about the EU referendum.
Four months later, a separate man ended up in court after saying on Twitter it was a "shame someone didn't shoot Leanne Wood".
Ms Wood added: "There is definitely a line, and when it is a threat of rape or to put a bullet between your eyes then I think we have a responsibility to do something about that."
She also spoke about research which found the Labour shadow home secretary Diane Abbott received more abuse than other women during the 2017 UK election campaign.
"There is no way she should have to put up with that (level of abuse)," she said.
"And I think as fellow women who operate on social media, we should all get behind Diane Abbott and others like her who receive that type of abuse."
Also speaking at the event, which was organised by the Institute for Welsh Affairs, was political and PR advisor Shazia Awan-Scully - who was subjected to racist abuse in the aftermath of the EU referendum.
Caerphilly-born Mrs Awan-Scully told festival-goers police had visited her and took away her letterbox "because of the threat of arson, because of some of the things they had seen on social media".