Meals on wheels cuts create greater risks, says commissioner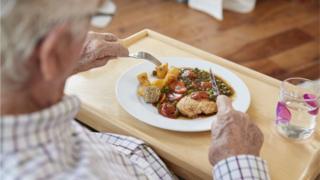 Older people are being put "at greater risk" because of cuts to meals on wheels, according to the older people's commissioner.
Half of Wales' 22 local authorities do not provide the service and a further two will stop in October.
Sarah Rochira said as well as depriving older people of nutrition, it creates wider safeguarding issues.
A Welsh Local Government Association spokesman said councils recognised the benefits but have had budgets cut.
However, Ms Rochira said councils had a responsibility to look after older people and services such as meals on wheels were part of this remit.
"I think local authorities who reduce these services need to think very carefully about the impact it's having on individuals," she added.
Ms Rochira said as well as providing nutrition, meals on wheels offered company and allowed someone to check older people were okay.
Without the service she said there was a danger more people would have to go to hospital.
"I would say that any local authority withdrawing this service should be absolutely sure and confident that they are not placing people at further risk by doing that," she added.
Mervyn Humphries, 71, of Machynlleth, Powys, who lives on his own and is disabled, said: "The meals on wheels service is very important to me. It's only twice a week but it's very important.
"I can't cook myself. I get breakfast in the morning which I do myself but as for cooking my own dinners I couldn't manage it.
"My brother's living in Hertfordshire; my sister's living in Newtown, but I hardly ever see them."
Without the service, he said he would have to just eat tinned foods.
Denbighshire, Newport, Powys, Anglesey, Gwynedd, Flint, Wrexham, Vale of Glamorgan, Conwy, Neath Port Talbot and Merthyr Tydfil councils do not provide the service.
It will also be coming to an end in Pembrokeshire and Carmarthenshire in October, although both said an alternative would be put in place.
This will leave Blaenau Gwent, Swansea, Cardiff, Caerphilly, Ceredigion, Torfaen, Monmouthshire, Bridgend and Rhondda Cynon Taf as the authorities where it is offered.
Carmarthenshire and Pembrokeshire councils ran the services with charity the Royal Voluntary Service.
"Some of the meals across the UK that we deliver are frozen meals," said Steve Amos, head of commissioned services of the Royal Voluntary Service.
"In the last few years there's been a very big increase in supermarkets and other providers been able to offer those kind of things directly as well.
"It's a changing environment I think it's fair to say."
The WLGA said councils do "recognise the value" of maintaining social care services, such as meals on wheels, to communities.
"However, in light of extraordinary cuts that have been imposed on local authorities, all councils have had to take extremely tough decisions within extraordinarily tight budget constraints," said a WLGA spokesman,