Wylfa Newydd nuclear power plant negotiations start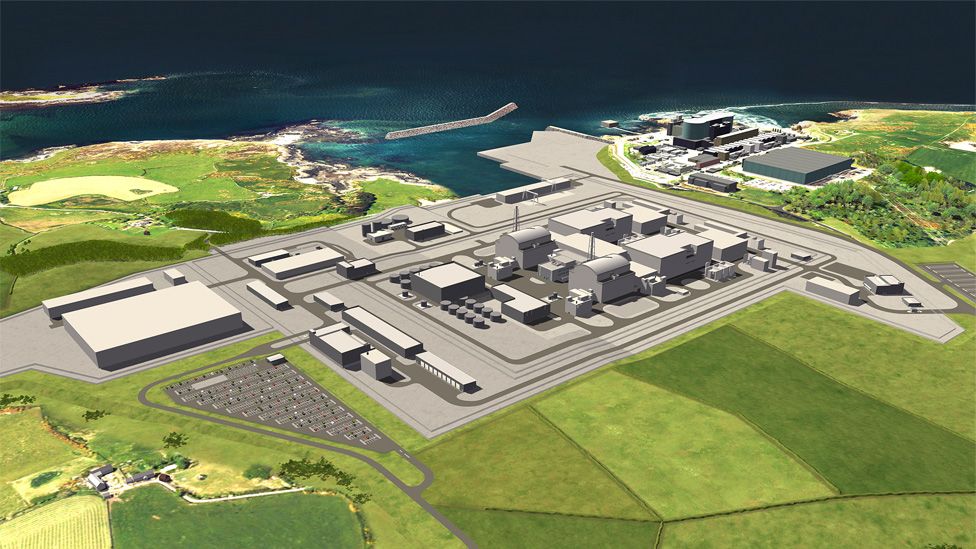 The UK government says it has started negotiations with a Japanese firm over a new nuclear power station on Anglesey.
Energy secretary Greg Clark told MPs on Monday that public money could also be invested into Wylfa Newydd.
The proposal has been on the horizon for a number of years, but ministers say the latest development is a major step forward.
It is hoped work on the new plant could begin by 2020.
The original Wylfa plant on Anglesey closed in 2015 after more than 40 years of service.
It is hoped its £12bn replacement would have a 60-year operational life and would be run by Horizon Nuclear power - a subsidiary of Japanese giant Hitachi.
Developers say the plant would create up to 8,500 jobs during the construction phase.
The proposals feature a plant with a capacity of generating 2,700 megawatts of electricity, enough power for about five million homes.
Mr Clark told the House of Commons that any direct investment in the project would be made alongside the Japanese government and Horizon.
He said: "This is an important next step for the project, although no decision has been taken yet to proceed with the project, and successful conclusion of these negotiations will be subject to full government, regulatory and other approvals, including but not limited to value for money, due diligence and state aid requirements.
"It remains the government's objective in the longer term that new nuclear projects - like other energy infrastructure - should be financed by the private sector."
Welsh Secretary Alun Cairns welcomed the news and said the scheme would be the "biggest infrastructure project in Wales for a generation".
The Nuclear Industry Association's chief executive heralded the announcement as "good news" for the UK meeting its decarbonisation targets.
First minister Carwyn Jones said Mr Clark's statement was a "significant milestone" for the project.
However, he said it was vital his government had "a seat at the table as the project progresses to the next stage".
Analysis: Brian Meechan, BBC Wales business correspondent
Successive UK governments have long seen nuclear energy as an essential part of ensuring the lights stay on in future.
As we've seen with Wylfa Newydd and the new Hinkley Point C nuclear plant in Somerset, it's an expensive commitment for companies to take on.
With the prospect of taxpayers taking a stake to the tune of billions of pounds, the UK government's shown that it's willing share a large part of that burden in the interests of energy security.
As well as the thousands of construction jobs, almost 900 people will be employed at the site when it begins operation and it could be worth £5.7bn to the Welsh economy, according to independent research.
If it does go ahead, the long-term impact on north Wales will depend on making sure people have the right skills to get the jobs available and businesses benefit from contracts as suppliers.
Critics will continue to be concerned about safety and the impact on the local community, not least on tourism.
Environmental campaigners have also raised questions and concerns about the proposed plant.
Kate Blagojevic, head of energy at Greenpeace UK, said: "The notion that new nuclear will be good value for money is farcical when it's so much more expensive than cleaner, safer renewable alternatives that are faster to build."
Caroline Lucas, co-leader of the Green Party, said: "Taking a stake in this nuclear monstrosity would see taxpayers locked into the project, and paying out for a form of electricity generation that's not fit for the future."
Ahead of the UK government's announcement, there was speculation that it would no longer support plans for a tidal lagoon in Swansea - but no announcement was made by Mr Clark.
Mr Clark also did not comment on speculation that a guaranteed price for the electricity generated at Wylfa Newydd would be around £15 per megawatt hour less than the £92.50 so-called "strike price" awarded to EDF for the Hinkley Point C nuclear power station being built in Somerset.
Horizon Nuclear power still also needs to gain a development consent order as well as have all of its investment in place before construction can start.
Related Internet Links
The BBC is not responsible for the content of external sites.