'Laborious' Welsh language rules on hold for private firms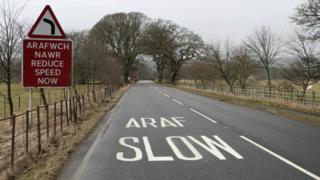 Water, energy and bus companies will not be forced to provide services in Welsh after plans were put on hold.
Public bodies like councils and police have to provide some services bilingually under Welsh language standards - or face fines.
Welsh language minister Eluned Morgan said the standards had proved "costly and complex" and would not be rolled out further for the time being.
But campaigners said it was a "major step backwards".
More than 120 public bodies in Wales, including local authorities, the Welsh Government, assembly and the NHS, are now covered by the standards, first introduced in 2016.
Many bodies have complained about the cost and complexity of the regulations, which include making it clear that they welcome correspondence in Welsh and giving the language priority on bilingual signs.
The Welsh Government had been developing standards for the voluntary and private sector bodies in Wales - including water, energy and the Royal Mail - although a timeframe for bringing them in had not yet been set.
But on Tuesday, Ms Morgan said the standards would not be rolled-out further for the time-being.
In a statement she said implementing them had been "laborious, costly and complex" and investigating breaches had been "long and overly bureaucratic".
The 2011 census reported a drop in the number of Welsh speakers from 582,000 in 2001 to 562,000, about one in five of the population.
Ms Morgan said if the Welsh Government was to meet its target of a million Welsh speakers by 2025 it must "be clear about how we can better spend our resources and time".
"Let me be clear, we will not stop enforcing the standards. Bodies must fulfil their statutory duties," the statement reads.
"But in my view it is always better to use a carrot rather than a stick, wherever possible. In the field of language, enforcement is unlikely to be effective at bringing about long term cultural change if we cannot change minds and support bodies to comply."
Instead the Welsh Government is looking at bringing in new legislation to try and ensure more people start learning and speaking Welsh.
It will also introduce a Welsh Language Commission to promote the language and regulate the existing standards - replacing the role of Welsh language commissioner.
Current commissioner Meri Huws finishes her term in March 2019 - and will be replaced for a transitional period before the new body is formed,
But Welsh language campaign group Cymdeithas yr Iaith said the move would "reduce regulation for the benefit of powerful businesses and bodies".
A spokesman said: "Her decision to refuse to extend the standards to the private sector is completely at odds with public opinion and that of assembly Members.
"It's a major step back that she's talking about 'persuading' big business when every expert knows that regulation is the answer."