438 jobs hit by House of Fraser Cardiff and Cwmbran closures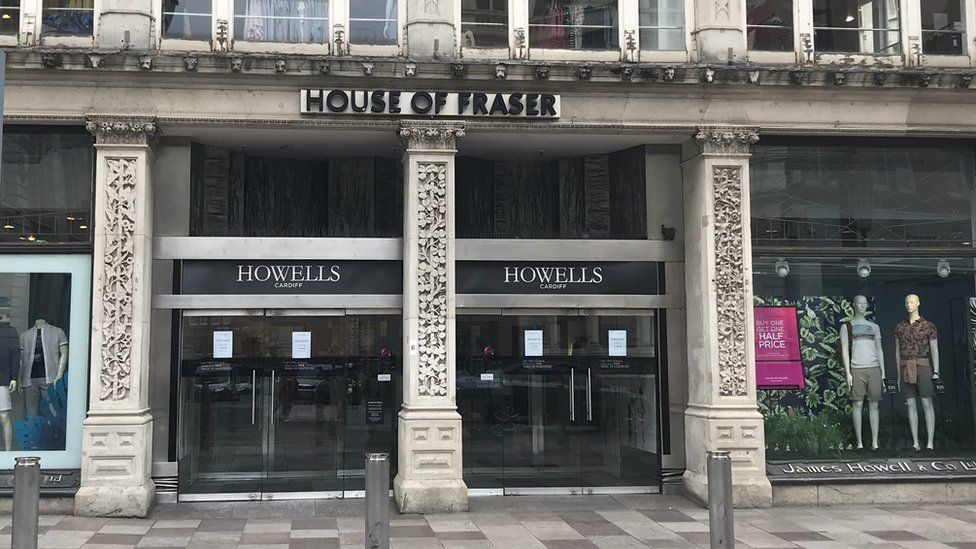 Nearly 440 Welsh jobs are under threat after department store House of Fraser announced the closure of its Cardiff and Cwmbran stores as part of plans to keep the business alive.
The retailer has put a rescue deal forward which includes shutting 31 of its 59 shops and needs the approval of 75% of its creditors to go ahead.
All stores will stay open until 2019.
The Cardiff store has been in existence since 1869 and was one of the landmark shopping destinations in the city.
Hotels have already shown interest in the site.
If the overall closure plan is approved, 2,000 House of Fraser jobs will go, along with 4,000 brand and concession roles.
The stores scheduled for closure include its flagship London Oxford Street store.
The retailer needs the approval of 75% of its creditors to go ahead when they vote on 22 June.
Such a closure in Cardiff would lead to the loss of an iconic venue in the city centre with 342 jobs affected.
Chris Parry, a retail expert from Cardiff Metropolitan University, said: "It's a key feature of the city and the difficulty is what and who replaces it.
"It's like losing a big name football star. Who comes in and makes the team good or better and it's going to be very difficult to replace House of Fraser who have been here for almost forever."
Tiff Jordan, 49, from Stockport, Greater Manchester, was a student in Cardiff 25 years ago and worked at the store.
"I think it's very sad. It's the first time I've been back. I'm getting emotional now. We came to visit yesterday and I couldn't believe how posh and lovely it was and now this today.
"I have very happy memories of working there, lovely place to be, really nice."
Geoff Beer, 57, owner of a stall at Cardiff market for 37 years, has fears over how the closure next door will impact on traders.
He said: "I should imagine 70% of them shop in the market as we're right next door. I'm sad for the staff to be honest. I've known quite a lot of them for years."
Jo Stevens, Labour MP for Cardiff Central, said: "I will be supporting affected constituents currently working at House of Fraser and want to ensure that the future of the flagship city centre building is properly safeguarded."
Meanwhile, Azeema Zaheer, chief executive of Naissance Capital Real Estate, the largest private landlord in Cardiff which owns the building said she was surprised by the closure plans.
"Cardiff is a profit-making store for House of Fraser so it wasn't one of the ones that were not making profit. It's really a shame and my heart is bleeding right now for all of the people that are working at the store and our first priority today is to figure out how we can recreate those jobs in that building," she said.
"That site is perfect for a nice, boutique hotel to come in. We're already started early stage conversations with three hotel groups that are very interested."
The store, originally known as Howells, drew shoppers from far and wide.
It was originally opened in 1865 by James Howell who ran a drapery shop.
The business was a success, and in August 1867 Howell moved to larger premises at 13 St Mary Street, adding new departments for carpets, furnishings, millinery goods and funeral services.
The House of Fraser stores identified for closure:
Altrincham, Aylesbury, Birkenhead, Birmingham, Bournemouth, Camberley, Cardiff, Carlisle, Chichester, Cirencester, Cwmbran, Darlington, Doncaster, Edinburgh Frasers, Epsom, Grimsby, High Wycombe, Hull, Leamington Spa, Lincoln, London Oxford Street, London King William Street, Middlesbrough, Milton Keynes, Plymouth, Shrewsbury, Skipton, Swindon, Telford, Wolverhampton, Worcester.
The business continued to expand and by 1892, the shop had grown to 36,800 square feet and traded under the name James Howell & Co.
By 1905 it employed over 400 staff.
When he died in 1909, the ownership of the store passed to his 11 children, with the company becoming James Howell & Co Ltd.
It was bought by the House of Fraser group in 1972 and re-branded as House of Fraser in 2010.
The Cwmbran store, which has 96 staff, was a David Evans department store which has had a presence in the town since 1964 - before the Welsh firm was sold to House of Fraser in 1977.
Alan Jones, Torfaen council's executive member for business, said: "Given the difficult economic picture, my concern is for the people losing their jobs and our skills and employability team are liaising directly with the store to offer support and discuss options."
Welsh Secretary Alun Cairns said he spoke to the chairman of House of Fraser earlier this week and "agreed to work closely together to ensure the best possible outcome for workers in Wales affected by this decision".
The closures of the Cardiff and Cwmbran stores would bring an end to House of Fraser's presence in Wales after Swansea's David Evans store shut in 2005.
House of Fraser began with one shop in the centre of Glasgow almost 170 years ago.
It became a retail empire with more than 100 department stores, including iconic luxury store Harrods in 1959.
However in recent years, the company has struggled resulting in the proposed closures.
A House of Fraser spokesman said: "All staff members employed directly by the company or its concessions have been notified and will be supported throughout this process."