Swansea cyclist catapulted from bike by string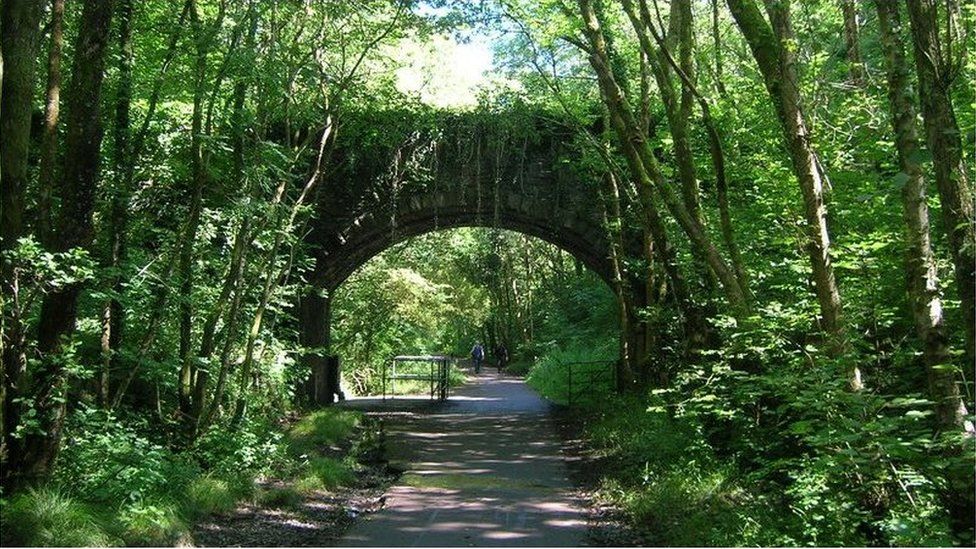 A cyclist was thrown from his bike after riding into a piece of string tied at neck height across a Swansea cycle path.
David Stacey suffered head injuries and spent a night in Morriston Hospital after being knocked unconscious at about 17:40 BST on Tuesday.
He was cycling from Killay to Gowerton on the Clyne cycle path near Oakwood Drive.
The incident is being investigated by South Wales Police.
Mr Stacey said he could barely remember what happened and added: "If I didn't have a good helmet on I would have been a goner.
"The string was roughly neck or shoulder height and I came off my bike. My head hit the floor and I was knocked out completely.
"All I can remember is that it felt like hitting an invisible wall. I can just about remember going through the air and then like a firework going off inside my head and that's it."
Three men stopped and phoned the emergency services.
Mr Stacey said there was sometimes tension between walkers and cyclists on the multi-use path, with some cyclists going too fast.
He said: "Protesting against cyclists going too fast or some sick prank could have resulted in a death or brain injury.
"There's a huge dent in my bike helmet - that could have been my skull."
A police spokeswoman said: "Cyclists in the area are advised to be vigilant and to report anything suspicious."
Related Internet Links
The BBC is not responsible for the content of external sites.