House of Fraser: 'Not just shopping - it was an event'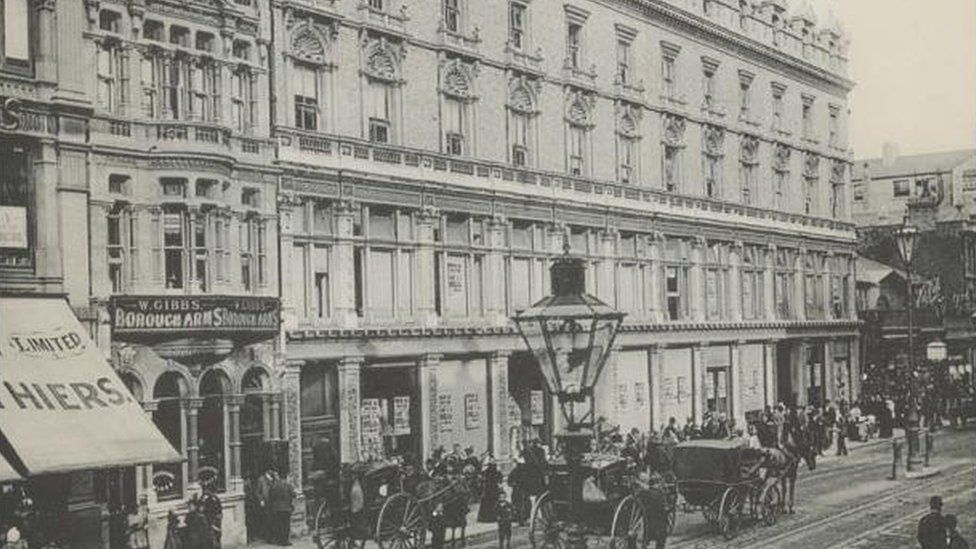 Over 150 years of shopping tradition will end next year, when House of Fraser closes its Cardiff and Cwmbran stores.
A generation ago virtually every major town and city boasted its own unique flagship department store.
For columnist and social commentator Carolyn Hitt, these buildings were far more than just shops.
"Shopping at Howell's or David Morgan was an event," she said.
"As a child, a trip down from Tonypandy to see the window display would properly mark the start of Christmas for me, counting off the toys I'd put on my list for Santa.
"When I was older, they became meeting places. Friends would have a cup of coffee or a bite to eat, before a trip round the store to browse that season's lines.
"Not only were they stores where you could buy everything your heart could possibly desire all under one roof, they were focal points for a community in a way we're rapidly losing."
Sarah Jones worked in Howells's finance department during her summer holidays from university in the early 1980s.
"In some ways you could tell even back then that Howells was a relic from a bygone age, it was Grace Brothers in real life.
"I was astonished when I worked there that I couldn't give store cards to women under 21 without a letter of permission from their father or husband. It was fine for any man over 18.
"Though it definitely brought communities together. Virtually no-one ever paid full price, as everyone new a neighbour or relative working there who could give them a staff discount.
"Mind you, for some people it brought communities too closely together. I remember one man I knew coming in to take advantage of 0% credit on a fur coat for his mistress - he had kittens when he saw it was me bringing out his finance agreement!"
Yet if we loved these staples of our high streets so much, why have we stopped shopping in them?
"I think we loved our towns and cities to be unique, because they were part of our DNA, a symbol of where we'd grown up," Ms Hitt suggests.
"These days people move around so much that maybe what makes them feel at home is the generic high street, the fact that they can see the same shops, virtually in the same layout, wherever they go around the country.
"I also think it's a generational thing. I like the act of shopping, but younger friends can't be bothered with the hassle, they just want to click and try it on the next day at home."
Though she points out it is not just high end department stores which have suffered in this way.
"Who remembers Thoms or Hyper Value?" she asked.
"They were the place you went because you knew they'd sell the thing you couldn't think where to buy anywhere else, like a whatsit for your bath, a thingy for the airing cupboard, or 30 cheap presents for party bags.
"Nowadays, you put it in Google and it's on your doorstep the next day. Back in Tonypandy the only shops left are ones you physically can't replace online, like tanning and tattoo parlours, vets and takeaways.
"Maybe that's the way we're going. In another generation we'll never go out of our house. Everything will be bought online, and we won't need to meet in David Morgan's coffee shop because we'll all be tweeting from our sofas."
Related Internet Links
The BBC is not responsible for the content of external sites.