Mystery as £3m of Welsh police training cash 'disappears'
By Jordan Davies
BBC News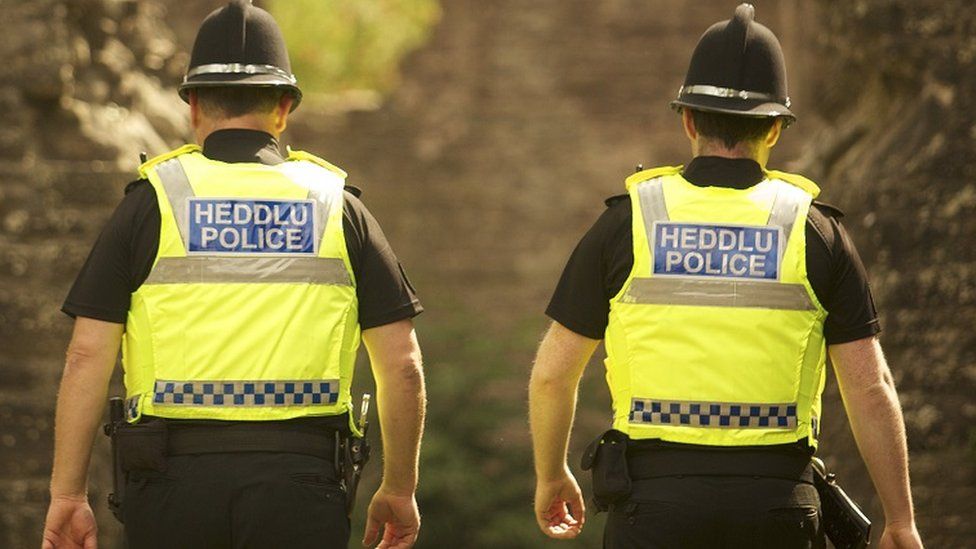 Nearly £3m of Welsh police forces' cash - used to train new recruits - has "disappeared" and neither the Welsh nor UK government can explain where it is.
The Police Federation, which represents rank and file officers, said the funds had been lost in a dispute between the two administrations.
The Welsh Government said it recognised the concerns of police forces.
But it insisted the funding of police officer training should not be its responsibility.
The money from the apprenticeship levy is used to help train recruits without a degree.
Introduced last April, the pot is paid into by all employers with a wage bill over £3m, including police and councils.
But the federation said Welsh forces had not seen a penny of the money they paid into the fund and there is concern they may have to dip into their own budgets to cover training costs.
Gwent Police and Crime Commissioner Jeff Cuthbert said he did not know where the money his force had paid has gone.
"All we can say for certain is that Gwent has paid £500,000 into the apprenticeship levy... as far as we're concerned that's where it still is," he said.
"What we really want now is both Welsh government and UK government, the Home Office in particular, to actually get this right so we can go forward."
The federation said neither the Welsh nor UK governments could explain where Wales' share of the money - nearly £3m - had gone.
The UK government, which has responsibility for the fund, sends money directly to organisations that pay into the levy in order for them to train apprentices.
But the Welsh share is sent to the ministers in Cardiff Bay, who then have responsibility for dishing it out.
As skills policy is devolved, the money is not necessarily spent on apprenticeships in Wales and can be spent as ministers see fit.
The Welsh Government blamed the UK government, but could not say where the money had gone.
A Welsh Government spokesman said the apprenticeship levy was a "UK government employment tax" which undermined areas of devolved responsibility.
He added: "The apprenticeship levy has not provided any significant additional funding for Wales.
"Any Barnett (formula) consequential received as a result of the introduction of the levy has been offset by the consequential of cuts to existing UK government apprenticeship programmes, which we estimate to be around £90m.
"We remain concerned about the UK government's policy on the apprenticeship levy."
A UK government spokesman said it "wants to ensure the best possible outcome for forces across England and Wales and the College of Policing, and departments are currently in discussion with the Welsh government in order to achieve this".