Mum's anger after five hour wait for ambulance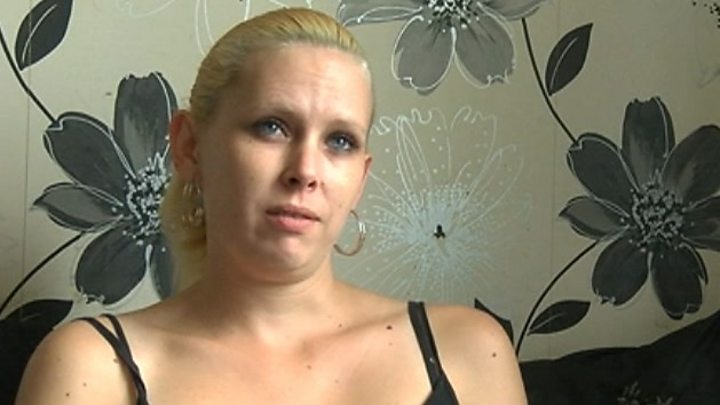 A mother has demanded answers after a "horrific" stillbirth which saw her wait five hours for an ambulance.
Deborah Clark was 19 weeks pregnant when her waters broke at her home in Chirk, Wrexham, on 4 April.
She called 999 at about 20:00 BST and gave birth about two-and-a-half hours later but despite repeated calls and a relative flagging down a police car paramedics did not arrive until 01:00.
The Welsh Ambulance Service apologised and has launched an investigation.
Miss Clark said: "I was a mess. There was blood everywhere. The baby was on the couch. I was in and out of consciousness.
"Having a miscarriage is traumatic enough, but having it happen in your own home and a five hour wait for an ambulance makes it even worse."
In the days leading up to the incident, Ms Clark said she felt a bit unwell, but put it down to a "tummy bug".
She said: "The pains got worse and then suddenly I started leaking water. At first I thought it was the baby leaning on my bladder.
"Then I started having contractions and I rang 999 and told them I needed help. The operator told me that they would get someone with me."
Neighbours and the 29-year-old's father Andy, who had come to the house, then made further phone calls.
Mr Clark, 49, said: "Debbie was screaming the place down in total agony. It was absolutely horrific.
"As time wore on we got more and more frantic. The baby was dead and my daughter was slipping in and out of consciousness. We were scared we were going to lose her as well."
At about midnight, Miss Clark's family flagged down a passing police car, and the officers called in the emergency as a "code red".
An ambulance arrived an hour later, and Miss Clark said: "If it wasn't for the police I fear I would have ended up waiting even longer."
She stayed in hospital for four days before holding a funeral for her child, who she named William, on April 20.
Her story came to light after North Wales Police Chief Mark Polin highlighted it during a presentation about the force dealing with "non-crime" incidents.
Miss Clark said she was grateful for the police's help that night, and for them speaking out about the incident.
"I hope that my story coming out means that no-one else has to go through what I did," she added.
Patsy Roseblade, interim chief executive of the Welsh Ambulance Service, said: "We have spoken with Ms Clark to offer her our sincere apologies and heartfelt condolences.
"We are arranging to meet her as soon as possible so that we can discuss the circumstances of this incident.
"The service provided was absolutely not at the level we wish to provide and we have instigated an urgent and detailed review of the incident.
"We are also working closely with colleagues at Betsi Cadwalader University Health Board on a joint investigation into the incident and will involve Ms Clark at every stage."