Amen Corner guitarist Neil Jones dies aged 70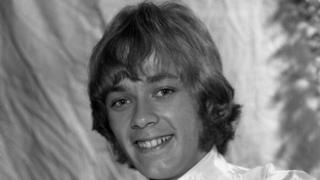 Tributes have been paid to former Amen Corner guitarist Neil Jones, who has died aged 70.
Jones played with the 60s group - who had four top 10 singles, including (If Paradise Is) Half as Nice, a UK number one for two weeks in 1969.
He later became an acclaimed photographer - with his work appearing in NME and Melody Maker.
The father-of-two, from Llanbradach, died after battling cancer his family said.
His Amen Corner bandmate and brother-in-law Andy Fairweather Low posted a tribute to him on Facebook.
"R.I.P. Neil Jones, guitar player with Amen Corner who has just passed away," he wrote.
"He was a founding member of the band who all remained firm friends to this day. He will be much missed by his family, his friends and his fans. Amen."
In 1966, the band were joined onstage by Jimi Hendrix at The Speakeasy Club in London.
Hendrix shared the stage with Amen Corner again at Cardiff's Sophia Gardens in November 1967 - joined that night by Pink Floyd, The Move and The Nice - and they also toured together.
The band also appeared on Top of The Pops a number of times before splitting in 1970.
Following the band's split, Jones had a brief stint in the band Fair Weather.
However, after quitting music he then embarked on distinguished photographic career - using his rock n roll contacts to get candid shots of stars such as David Bowie, Elton John and The Jackson Five.
His daughter Kirsty Clark, 45, said she felt lucky to have him as a father.
She said: "I had an amazing childhood where bedtime stories would feature tales about dad with Jimi Hendrix.
"And there was the time Stanley Kubrick popped in to our house in London."
Mrs Clark said the family returned to south Wales in 1975 where her father was appointed the official photographer of Cardiff city council.
"He started out taking photos of rock and pop royalty - and then ended up photographing actual royalty," she added.
"He photographed the Queen and Princess Diana when they came to Cardiff and everyone in between - from Nelson Mandela to the Spice Girls."
Jones, who died on June 8, is survived by his two children and three grandchildren.