NHS 70: The health service in Wales - in 10 charts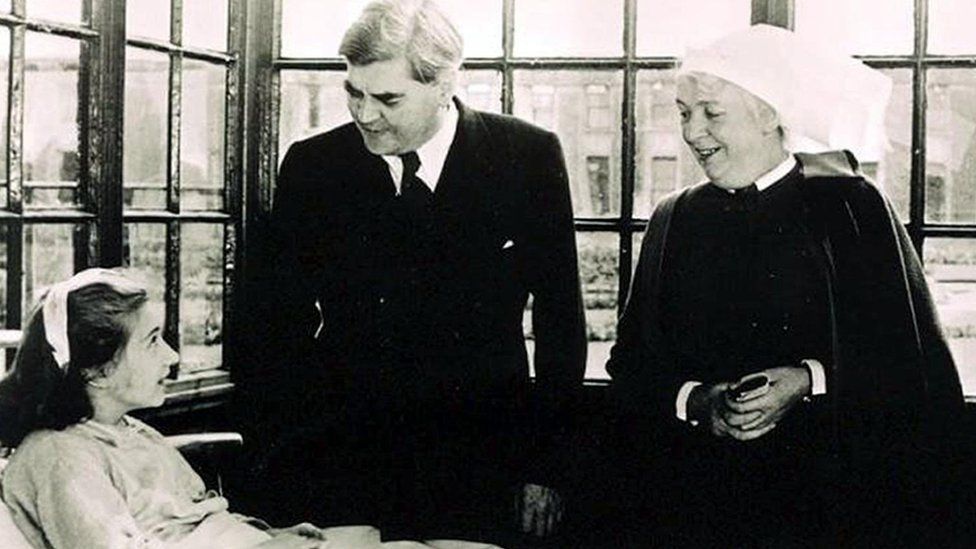 As patients in Wales, we come into contact with the NHS 20 million times each year.
Surveys suggest people are still overwhelmingly satisfied with the NHS, back healthcare being a government responsibility and most want to see more money spent on it.
But what does the NHS look like in Wales?
Here is a snapshot in 10 charts.
1 How many people work for the NHS in Wales?
There are 77,917 staff working for the NHS in Wales - that's more than the capacity of the Principality Stadium in Cardiff. Over the last 21 years, the total number of directly employed staff has risen by 45.6% and is now at record levels. But how does it break down?
Nurses, midwives and health visitors are the biggest group - this includes 1,347 midwives and 18,287 1st level nurses. More than half (56%) of all nursing staff work in the acute, elderly and general sector.
2 Spending on the NHS is going up
Spending on healthcare has risen from more than £6bn a year in 2012/13 to more than £7.6bn for this current financial year. It takes up about half of the Welsh government's budget.
The largest single programme budget category was spending on mental health problems, which amounted to 11.2%.
How does that add up for each of us? Well, spending per head on clinical programmes ranged from £11.16 on hearing problems to £228.79 on mental health problems.
3 More of us are going to accident and emergency
The NHS at its "front door" looks wide open. There are now more than one million visits a year to accident and emergency units in Wales.
Consultants also say patients are having more types of treatments and staying longer.
And it is not just winter pressures - often with more complicated conditions - but demand is all year round, with summer months often the busiest.
4 Top 10 drug and alcohol referrals to NHS
More than half of referrals for substance abuse problems are for alcohol. The average age of a person receiving treatment is 42.
Heroin accounts for nearly one in five of all referrals. The numbers being referred with crack cocaine problems at 161 is at a five-year high. Two thirds of those starting any sort of treatment are men.
You might be interested in these stories too:
5 How healthy are children in Wales?
What will the NHS in Wales look like at 100 or even by the time of its 150th anniversary? We might have a clue by looking at the health of young children now.
Public Health Wales has been weighing and measuring primary school children since 2011. The latest figures show a rise for the first time in three years of four and five-year-olds who are overweight or obese. About a third of children in Merthyr are like this - including 17.5% who are obese, more than twice the proportion in Monmouthshire.
But when the last five years are put together, obesity prevalence is higher than the Welsh average in seven local authority areas - Gwynedd, Pembrokeshire, Carmarthenshire and four south Wales valleys areas - Rhondda Cynon Taf, Merthyr, Caerphilly and Blaenau Gwent.
The separate National Survey for Wales also looks at childhood lifestyle factors, with latest results out last week suggesting an improving picture in terms of eating fruit and vegetables, drinking fewer sugary drinks - and with a smaller number being inactive than before.
6: How hard is it to see a GP when I want?
A significant proportion of patients are now finding it hard to make a GP appointment at a time which suits them. The proportion who say this is "very difficult" has risen to 24%, according to the latest National Survey for Wales. This is an increase from 15% in 2012-13.
It is worst in urban areas - with 27% saying they find it very difficult, compared to 22% of those living in villages.
Other factors given are, perhaps obviously, due to people working and those with limiting, long-standing illnesses.
The good news at least is, once we get in to see them, 86% of us are either very satisfied or satisfied with the care our GP provides. This is slightly down on last year. Only 9% say they are dissatisfied.
7 Smoking in Wales continues to decline
Patients being admitted to hospital with smoking-related conditions is falling in Wales as a whole - and in most areas. There are about 26,500 admissions every year. The rates of admissions are highest in five south Wales valleys areas - although Neath Port Talbot has seen the steepest decline. The same five areas are worst for mortality rates due to smoking.
There is a target for reducing the proportion of smokers in the population to 16% by 2020. But on current trends, it is estimated it could be 2027 before that it is reached.
More charts you might like:
8 Numbers with dementia, cancer and diabetes continue to rise
More than 21,500 people in Wales have a dementia diagnosis in Wales - a 48% rise compared with eight years ago. It is expected to keep on rising. Nearly the same number again are estimated as having undiagnosed dementia - bringing the likely number with dementia to more than 49,000. But those registered by doctors with having cancer have more than doubled and adults with diabetes increased by nearly a third.
9: More prescriptions are being dispensed each year
More prescription items per head of population were dispensed in Wales than any other UK nation - 25.8 for each one of us.
There has been a steady rise in the number of prescriptions - a rise of 83.8% since 2000 and this trend was before free prescriptions were brought in. Costs to the NHS per item though have fallen to £7.19 from £9.38 in 2000.
The number of drugs dispensed for dementia has risen from just 11,372 in 2002 to 178,839 in 2017 - a 1,473% rise.
Tramadol dispensing increased sharply until 2013 although it has since dropped, with a review of prescribing. Morphine sulfate prescribing has also seen a sharp rise since 2011.
10 How much NHS equipment is out there?
Across Wales there are 3,500 artificial limb users, 2,500 people with artificial eyes, while 70,000 people use a wheelchair and another 7,000 have orthopaedic aids ranging from lumber supports, leg braces to collars.
But there's a request out there - if you have a wheelchair or appliance not being used, please give it back.
The Cardiff centre alone provides 10,000 walking aids a year - but 40% are not returned. It included 3,147 walking frames and 1,780 walking sticks in the last year. It declared an "amnesty" saying that refurbishing crutches and walking frames can save the NHS £20,000 per year.