'Tombstoning' decrease in Cardiff Bay after schools tour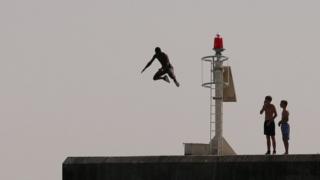 A stage play warning children about the dangers of "tombstoning" has been praised by port officials.
Tombstoning involves jumping off cliffs or other high points into water - and has led to a number of injuries as well as fatalities.
To combat the problem, acting company Theatr na nÓg has been visiting schools in Cardiff and Milford Haven.
Cardiff Harbour Authority said there had not been any incidents in the past two years.
The organisation's team leader Natalie Taylor said: "We had a serious incident about three years ago with a young man taken to hospital seriously injured.
"Because of the issue with tombstoning, we were trying to find ways to get the water safety message out.
"We used social media, but we couldn't tell whether we were actually engaging with the right young people.
"I decided we needed to do something a bit more dramatic and hard hitting and that's where the idea for a play visiting schools came from."
Campaigners say tombstoning is especially dangerous because of hidden underwater objects, cold water shock and the fact the water may not be as deep as people think it is.
Theatr na nÓg's production Would You Jump? tells the story of a doctor who is left devastated by a tombstoning tragedy.
The play was first performed in schools last year and has been seen by more than 1,000 pupils.
"The number of incidents have decreased dramatically," added Ms Taylor.
"The ambition is for it be rolled out to other ports in Wales."