New 50mph limit to tackle air pollution in Wales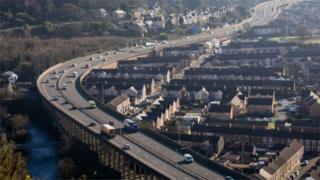 Temporary speed limits on five of Wales's main roads and motorways are to come into force from Monday in a bid to tackle air pollution.
The Welsh Government wants to cut nitrogen dioxide (NO2) levels on roads where they are above legal limits.
The 50mph limits are expected to reduce emissions by as much as 18% on some stretches of road.
The environment minister said it would help "support the right conditions for better health and well-being".
The limits will be introduced from Monday at:
A494 at Deeside (from B5125 St David's Interchange to A458 Deeside Park, 5.9km)
A483 at Wrexham (from J5 Mold Rd to J6 (Gresford, 2.6km)
M4 between junctions 41 and 42 Port Talbot (extending the current 50mph section, from Baglan to Earlswood, 5km)
M4 at Newport (to the east of J25 to J26, 1.4km)
A470 between Upper Boat and Pontypridd (to A4058 roundabout, 4.2km).
The new restrictions are part of a £20m air quality fund introduced by the Welsh Government in order to improve health.
Poor air quality is estimated to contribute to about 2,000 deaths per year in Wales.
Environment Secretary Hannah Blythyn said: "Current levels of nitrogen dioxide exceed the legal limit at the five road locations, so we need to act as soon as possible."