LGBT workers in Wales quit 'due to discrimination'
By Colette Hume
BBC Wales News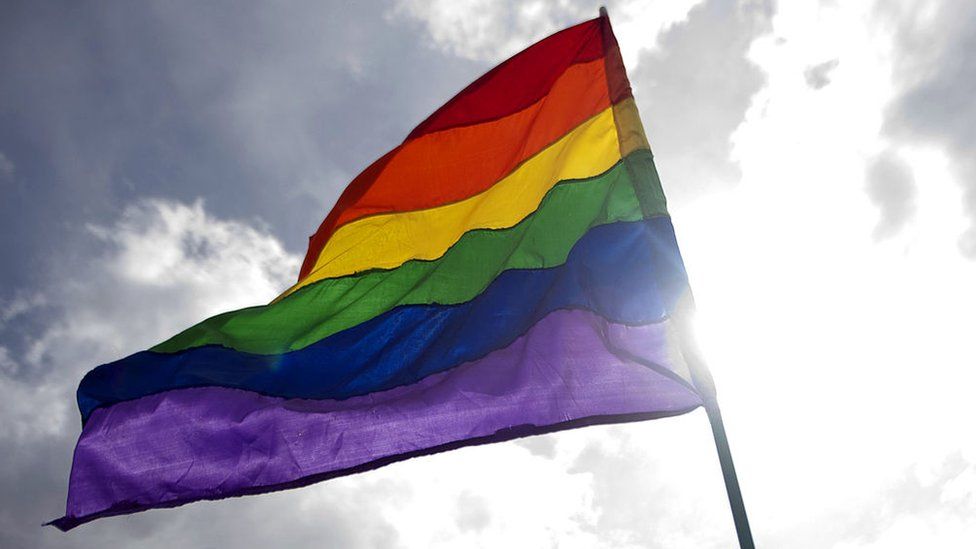 A transgender man has said he was forced to leave his job because of the "particularly cruel" treatment he faced at work while transitioning.
James, 32, from Cardiff, said his manager forced him to keep his female birth name and wear a woman's uniform.
Latest Stonewall Cymru figures show more than a third of LGBT workers in Wales hide their sexuality over fears of discrimination.
For the transgender community this rises to 45%.
James began transitioning from a woman to a man in 2013, but faced resistance and aggression from his manager and said he was told "at work you are female and you're staying as such".
"To me he seemed to treat it as if it was a hobby or I was doing drag or something, it was not taken seriously at all," James said.
"My initial request for a male uniform was refused. I had to fight every step of the way, just to be myself to be accepted for who I was.
"He wouldn't change my name in the workplace and when the testosterone began taking effect and I had facial hair he told me to shave it off.
"He just made up the rules as he went along. He was particularly cruel towards the end."
Coming out in the classroom
Engineering lecturer Ffion Erin Parry said the support she had from colleagues at Coleg Mennai in Bangor had been "immense".
Ms Parry said she battled for years with her identity - but finally addressed the issue three years ago after hitting rock bottom.
"Coming out in work was a scary prospect - especially given I'm a lecturer" she added.
"I didn't know how my colleagues would take it, let alone the pupils, but the support I've had has been immense.
"There sometimes is banter in the classroom - but I will join in with them - have a few laughs and move on.
"I don't want to create any animosity. I tend to find that I get accepted more because of the way that I deal with things."
Ms Parry said she also asked female colleagues about their feelings about her using the ladies toilet in work - and did not encounter any problems.
She added: "I hope that being a lecturer I can be a positive role model for students - especially to anyone who is transgendered and is having that inner battle like I did when I was growing up.
"I just want to say to anyone who is in that position: Be confident and be strong and above all be true to yourself. You don't have to hide in the shadows anymore."
The figures released on Wednesday - based on YouGov research of 825 lesbian, gay, bi and trans employees across Wales between February and April 2017 - were used for the Stonewall Cymru report which says there is "troubling exclusion and discrimination" in Welsh workplaces.
Andrew White, the charity's director, said: "Our work report shows that for some LGBT people in Wales, work is a place of abuse and discrimination.
"The fact that three in 10 trans people have faced transphobic behaviour from their own colleagues shows just how much we have to do until everyone can be themselves at work."
Another employee, Dewi, 36 told researchers: "I have recently been off work because of stress due to homophobic bullying by my managers.
"While my colleagues are great, the managers are terrible. An official complaint to HR found that homophobic attitudes extend there also and I have been faced with either quitting or returning. I return next week but I am feeling stressed and depressed, and at times suicidal."
And Lynn, 41, said: "The last four job interviews I've had have all thought it to be okay to ask when I am having my gender reassignment surgery and how long I would be taking off work when I did so, before turning me down for the job applied for."