Welsh Government were advised to 'walk away' from Pinewood deal
By Huw Thomas
BBC Wales arts and media correspondent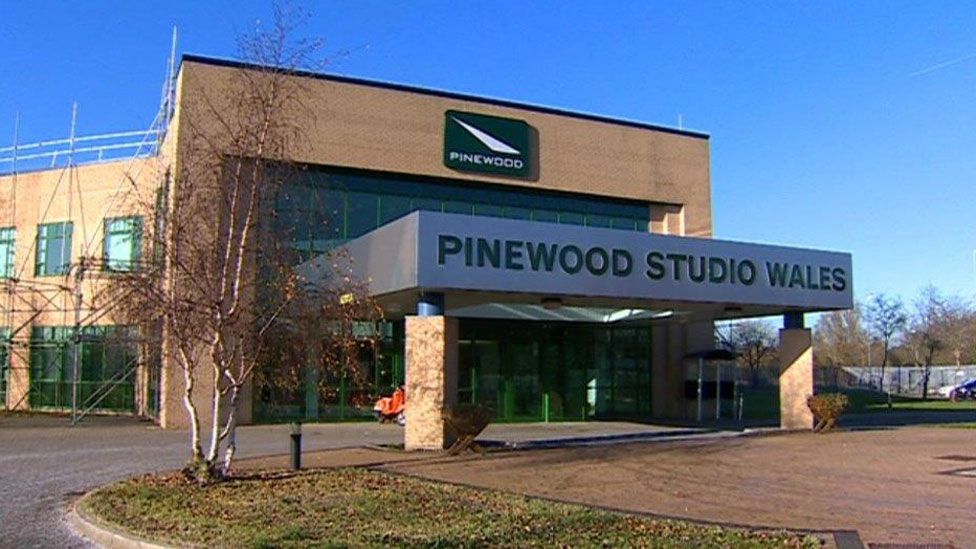 The Welsh Government was told to "walk away" from its deal with Pinewood by its top TV and film adviser, a committee of AMs has heard.
Ron Jones, founder of independent TV producer Tinopolis, said he advised then economy minster Edwina Hart to end the relationship with Pinewood in 2016.
Economy Secretary Ken Skates said the advice was rejected because of concerns about reputational damage caused by the loss of "a very strong brand".
The studio opened near Cardiff in 2015.
Mr Jones chairs the Welsh Government's creative industries sector panel and is a member of its media investment panel.
He and Mr Skates were appearing before the Assembly's cross-party culture committee inquiry into film and TV production in Wales.
The building which houses the studio at Wentlooge, on the outskirts of the city, was bought by the Welsh Government and fitted out for £9.5m before being leased to Pinewood in 2015.
But the terms of the deal were renegotiated in 2017, and Pinewood is now being paid to operate and promote the studio.
When it first moved to Wales, the studio was also responsible for a £30m fund to attract film and TV productions.
But Mr Jones said conflicts of interest emerged at Pinewood which led him to tell the government to pull out of its support for the company in spring 2016.
He told the committee, which is looking into film and TV production in Wales: "My advice to Mrs Hart was to walk away from the relationship with Pinewood completely.
"But then we had a whole series of things - her decision to retire, we had purdah [a pre-election or referendum period which prevents new initiatives], the appointment of a new minister. It is fair to say we lost a lot of time during that period for understandable reasons."
Mr Jones said he was involved in subsequent discussions to renegotiate the deal with Pinewood, and said he "took a fairly stern line with the chief executive of Pinewood at that stage".
But despite the emergence of a new deal, Mr Jones said: "My advice, and the advice of the creative industries panel, was still to walk away from the relationship with Pinewood. But I stress that these aren't always binary issues."
He praised Pinewood's contribution: "It helped create a presence for Wales around the world, we were involved with Pinewood and were now playing in a different league. Their marketing of us around the world has been valuable.
"I think some officials and the minister later concluded that it was a better deal to keep them involved. I disagreed, but I give advice and other people decide, so that is perfectly understandable."
He said he would have preferred to have the building back, entirely under Welsh control, to be part of dealings with the industry on a wider basis.
Asked why he felt the government did not listen to his advice, Mr Jones said: "In Edwina's famous phrase to me, 'You give me advice and I decide what works for me politically.' And I respect that. "
Mr Skates, who succeeded Mrs Hart, defended his decision to agree a new deal with Pinewood.
He told the committee: "We would have lost a very strong brand associated with the creative industries, and in terms of reputational damage I think that would have had a negative impact on what is a fast growing and thriving sector in the Welsh economy.
"This is sometimes forgotten amid all the questions about the detail of the agreements."
Mr Skates also criticised "negative headlines" about the creative industries from Welsh media, adding that "it takes the likes of The Guardian and The Times and other publications to actually highlight just how successful the creative industries are, for then some of our journalists here to re-tweet some of those positive headlines, rather than generate them themselves".