Universal Credit: Online ID demands delaying benefits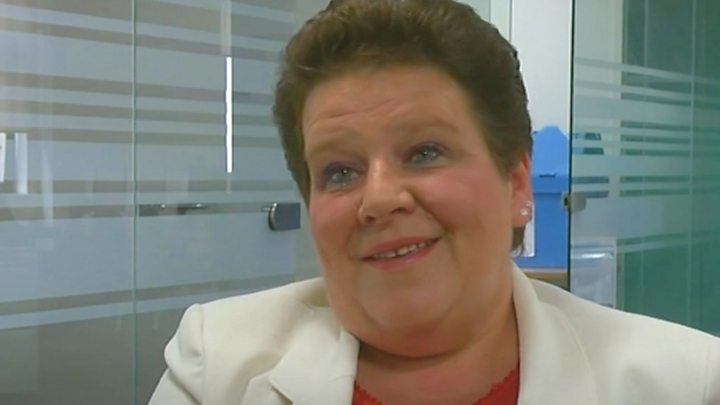 Jenny Lewis has never owned a passport or a driving licence - and it meant she had to wait months to receive her benefit money.
The documents are needed to apply for Universal Credit online but Jenny said cars and holidays are luxuries she cannot afford.
Delays in her application left her "degraded" and looking for food.
The UK government said "arrangements are in place" to support people who cannot apply online.
"The system is terrible, it's stupid - if you can't afford to go abroad you're not going to get a passport, if you can't afford a car you're not going to get a driving licence," said Jenny, from Newport.
Staff at the Pobl Group, which provides care, support and housing in the Newport area, said the Department for Work and Pensions (DWP) is wrong to believe most people will have a passport, driving licence or even access to the internet.
They believe only around a third of people are registering for Universal Credit online and it is causing a backlog for face-to-face appointments.
Jenny, who wants to be a care worker, said she had to "walk the length of Newport looking for help" and said it was "degrading" visiting the Samaritans and looking for food parcels.
She had to wait three weeks for a personal appointment to apply for an emergency loan - and then three months for her first Universal Credit payment.
She now owes £800 in rent arrears and her bills have been passed to debt collectors. Her landlord, Charter Housing, is helping her repay the money.
Kath Hopkins, Moneysaver Project Officer with the Pobl Group, said the "vast majority" cannot apply online.
"Most people on low incomes don't have photographic identification," she said.
"Why would you have a passport or driving licence - you can't go on holiday, you can't afford to buy a car.
"Without that you can't go through the online process and we're finding that as an advice organisation we haven't been able to help one single person verify their identification online".
She added: "Some people have been going to high cost lenders, and some people have been going to loan sharks because of this delay".
There is concern that this delay is in addition to other delays in the Universal Credit system. It can take more than a month to receive your first payment after submitting an application.
The issue was raised recently in the House of Commons by Newport East MP Jessica Morden, who called on ministers to review and speed up the process for initial Universal Credit claims.
A DWP official said it was working to ensure its Verify identity scheme is "an effective and secure means to confirm someone's identity when they make a claim to full Universal Credit".
They said it is expected that most people will use the Verify scheme it when they first make their online claim.
"In a minority of cases where it's not possible for claimants to have their identity confirmed through Verify arrangements are in place to support those people," said the DWP spokesperson.
The UK government department said a complimentary service called "Prove Your Identity" has been trialled in a number of sites, with a view to rolling out the service later in the year following a review.
The official added: "We are rolling Universal Credit out successfully across the country and we've made a number of improvements.
"We've introduced 100% advances to support people before their first payment, removed the seven waiting days and implemented two weeks' extra housing support for claimants moving onto Universal Credit."