Dog attacks on postal workers increase in Wales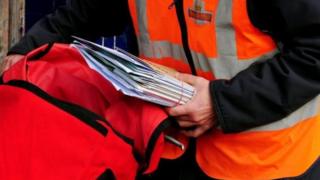 The number of dog attacks on postal workers attempting to deliver mail has increased in Wales over the past year.
A total of 167 workers were the victim of aggression from dogs in 2017-18 - a rise of 22% from 137 in 2016-17.
The Royal Mail said the total number of attacks across the UK fell by 8%, but seven postal workers every day were sent to hospital for dog injuries.
The Communication Workers' Union said the threat of aggressive dogs is still a "major concern".
Where have the attacks been?
CF (Cardiff postcode) - 37 (up 12%)
LL (Llandudno) - 33 (up 57%)
NP (Newport) - 27 (up 4%)
SA (Swansea) - 23 (35%)
CH (Chester) - 19 (no change)
SY (Shrewsbury) - 14 (up 40%)
LD (Llandrindod Wells) - 3 (None last year)
Royal Mail has appealed to dog owners to ensure they understand the potential impact on postal workers, some of whom suffer permanent or disabling injuries.
Dr Shaun Davis, Health and Safety director for Royal Mail, said: "One attack is still one attack too many. Our research continues to show that attacks happen most often in the summer, so we are continuing our campaign to appeal to customers to help us cut attacks across the UK.
"I am pleased that the overall dog attacks numbers continue to fall, but I am still very concerned that in some postcodes attacks are on the increase."