Swansea Bay tidal lagoon rejection decision criticised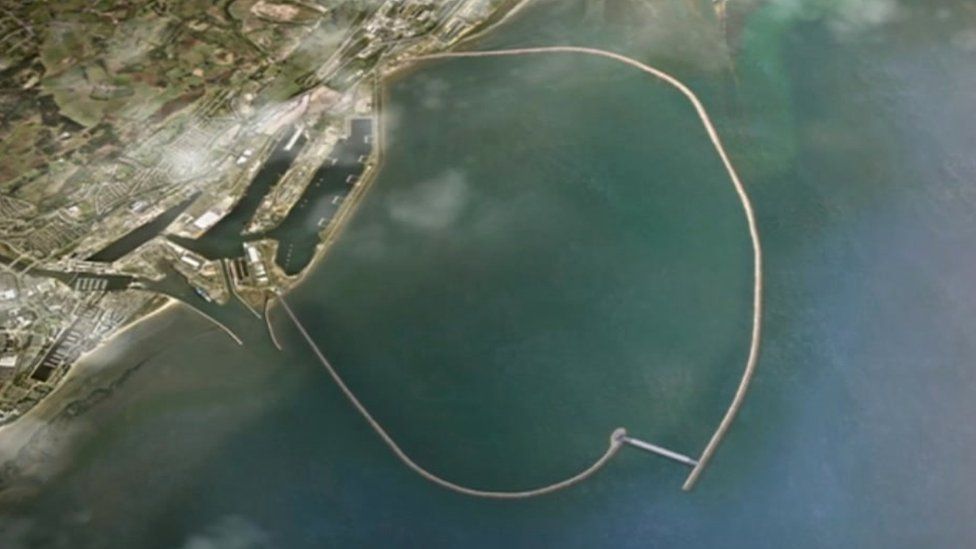 A decision by the UK government not to back the world's first tidal power lagoon could have been made 18 months ago, according to the man who led an independent review into the plans.
Tidal Lagoon Power (TLP) has requested a meeting with UK government ministers.
The rejection of the lagoon plans has been attacked by local politicians and community leaders.
First Minister Carwyn Jones claimed on Tuesday that the UK government would have supported a project like the Swansea tidal energy lagoon if it had been proposed in Northern Ireland.
Theresa May's minority government depends on support from the Democratic Unionist Party, in return for extra money for Northern Ireland.
Mr Hendry said he was disappointed with the UK government's decision but he added: "They're keen to look at other tidal technologies and that at least is positive.
"But they have therefore also taken 18 months which they could have almost said 'no' to it on day one."
Chairman Keith Clarke said: "There has been no negotiation and it is not unreasonable to expect that government will now be willing to meet and discuss its position on Swansea Bay Tidal Lagoon in some detail. We have already requested that meeting."
TLP claimed the Swansea project would provide power to 155,000 properties in Wales and would be cheaper than nuclear power.
The developers had previously asked for a 90-year contract with the UK government with an average strike price - a guaranteed price for the electricity generated - of £89.90 per megawatt hour.
The new nuclear power station at Hinkley Point C in Somerset was given a strike price of £92.50/MWh for 35 years.
The review by former energy minister Mr Hendry said Swansea should be used as a test of the technology, before allowing other developers to bid to construct further schemes as part of a competitive tendering process.
Carwyn Jones told the BBC that the UK government's decision not to back the £1.3bn tidal lagoon was a "political calculation".
He said he did not "trust the figures the UK government has come out with" to justify its position.
Later, during First Minister's Questions in the Senedd, Mr Jones said the people of Swansea would be feeling "huge disappointment", which he acknowledged was shared by Conservative members of the assembly.
However, a Wales Office spokesperson said: "Now that people know the financial cost of the Swansea tidal lagoon, the limited economic opportunities and the risk higher energy costs pose to the steel and manufacturing industries, it is surprising that some people are still championing this specific project.
"It would only have created 28 long term jobs and Hendry recognised that export opportunities were limited.
"In seeking to find a solution, we looked at a package of six lagoons and could not support them because the cost per unit of electricity would have been more than twice the price of nuclear. Higher energy costs pose a significant risk to manufacturing industries.
"The decision was made solely on the detailed analysis, including assessing the economic impact. The Welsh Government didn't disagree with the financial assessment."
David Clubb, a director at RenewableUK Cymru, the trade body for all renewable energy, has also criticised the rejection.
"It's clear that the ability to meet carbon targets is going to be very difficult to meet if this is the signal sent to the renewable energy market," he said.
Mr Clark told the Commons on Monday that although the Swansea Bay proposal "has not demonstrated that it could be value for money does not mean that its potential is not recognised".