Armed Forces celebration in Llandudno draws big crowds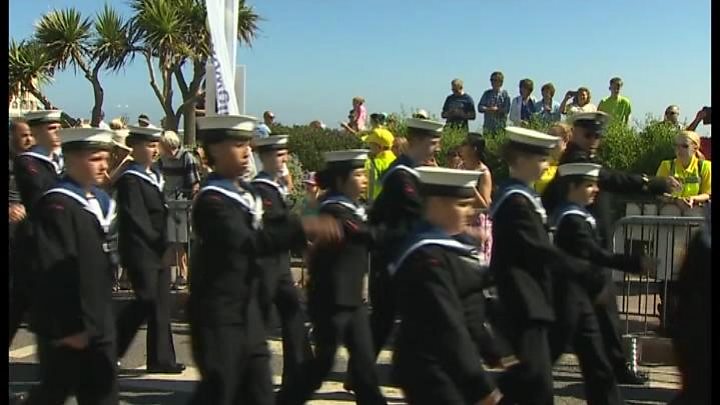 Prime Minister Theresa May and Princess Anne took in a military celebration in Llandudno as the resort hosted Armed Forces Day.
About 100,000 people were expected in the town, which normally has a population of roughly 20,000.
It was a big day for Fusilier Shenkin IV, as the Royal Welsh's new regimental goat has been in training since selection from a wild herd in March.
Conwy council said the event could boost the local economy by £4m.
The Princess Royal took the salute as 1,000 serving service personnel and veterans paraded through the town watched by large crowds and dignitaries including First Minister Carwyn Jones and Welsh Secretary Alun Cairns.
Mr Jones said: "We are here to thank our veterans, those who have served, those who gave their lives, and those that still serve, in order to make sure we able to have an event like this today."
Starting at Llandudno War Memorial, the parade travelled down the seafront to Bodafon Fields.
There were also aerial displays from the Red Arrows, a Battle of Britain Memorial Flight and Typhoons.
There were several road closures in place and those attending are being encouraged to use the park and ride services or to walk to and from the event.
Bus company Arriva said park and ride shuttle buses will run until 21:30, and there will be additional carriages on trains.
Police have asked visitors to arrive in good time and to not fly drones.
"The policing operation will be amongst the largest in North Wales Police's history" involving more than 500 officers and staff, according to Supt Jane Banham.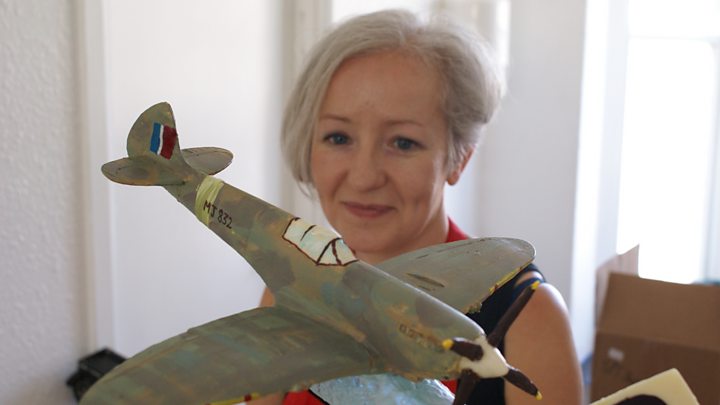 Mrs May said the annual event was "a way to thank our incredible servicemen and women for their dedication, for the many sacrifices they make and for their extraordinary service and courage".
In a video message, Labour leader Jeremy Corbyn thanked veterans, service personnel and reserves for their "sacrifice, service and dedication", adding: "And for all your sacrifices and all that you have done for us, we must do so much more for you."
This year's event had an official area for protest groups. Some said the day "glorified war" and encourage children to be involved.
Downing Street has confirmed next year's event will be held in Salisbury to pay tribute to the armed forces' response to the nerve agent attack in the city earlier this year.
Mrs May said the 2019 event would "also celebrate the tremendous resilience and great spirit of Salisbury, showing clearly it is open for business."
'Original Cardiff Bay diva'
In Cardiff, the Celebrating Black Soldiers on Armed Forces Day event will be held at Butetown Community Hub.
Patti Flynn, a former professional singer known as the "original Cardiff Bay diva", is organising the event in her capacity as patron of Race Council Cymru.
Ms Flynn's two brothers and her father were killed during World War Two.
Her brother Arthur, a pilot in the RAF, died in 1944 after the aircraft he was travelling in crashed in Salford.
Ms Flynn's father Willmott and brother Joclyn died while serving in the merchant navy when their cargo ships were sunk by Nazi U-boats in 1942 and 1941 respectively.
"This event is about marking the contribution of the black and minority ethnic (BME) community, especially because of the Windrush scandal," said Ms Flynn.
"It's to make the young aware that their race is something to be proud of."