This year's UK heat record broken again in Porthmadog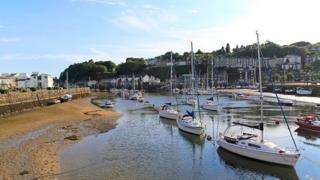 Temperatures in Portmadog in north western Wales have soared to new highs on the hottest day of the year so far.
The coastal town in Gwynedd basked in temperatures of up to 32.6C on Thursday, beating Wednesday's maximum of 31.9C.
The Met Office expects the hot weather to continue over the weekend.
Temperatures have reached at least 30C in all four UK nations over the last few days, which has not happened since a hot spell in July 2013.
Chief Meteorologist, Andy Page, said the hot weather will continue to affect western parts of the UK over the next few days.
"Although peak temperatures may not be quite as high as we have seen already this week, we will still see temperatures widely in the mid to high 20s," he said.
Amid the sweltering temperatures across Wales a large wild fire in Ceredigion is continuing to burn.
Specialists in wildfires have been deployed to the scene of the blaze near Cwm Rheidiol.
It is not near any homes and no one has been evacuated.