CO2 shortage: Could Wales run out of beer?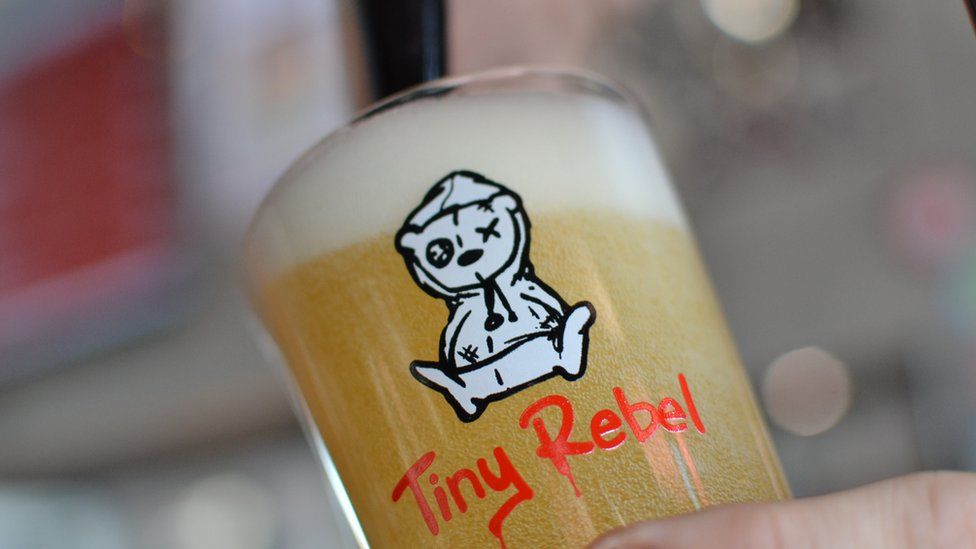 As CO2 shortages continue to affect the UK food and drink industry, Welsh brewers are thinking outside the box to ensure they can carry on bottling beer.
CO2 is used widely in food and drink production, from stunning livestock to extending shelf life and putting the fizz in beer, cider and soft drinks.
It has been in short supply since numerous plants that produce the gas closed for maintenance in June.
But Welsh brewers are working hard to make sure pubs do not run dry.
Contingency plans and experiments
For Brains Brewery, Wales' biggest beer producers, the shortage has not caused problems.
"At this current time we're pleased to say that our supplier is able to continue to supply us with CO2," said head brewer Bill Dobson.
"Combined with the Brains stock we have currently on site at the brewery and the contingency plans we have in place, we do not currently foresee any issues with production."
But for smaller brewers, the shortages have meant careful planning and thinking outside of the box.
Newport-based Tiny Rebel said they have been rationing supplies and experimenting with processes that use less CO2.
"CO2 is the lifeblood of the brewery really," said marketing manager Niall Thomas.
As well as putting the fizz in beer, the gas is used to "purge" tanks of oxygen before they are filled, and to dispense drinks into packaging.
"The very worst case scenario is we don't receive our delivery on Friday and all our attempts to figure out other solutions fail, which would mean we'd have to pause production," he said.
"However, we're always up for a challenge and our production team are doing plenty to try and avoid that situation."
"We have been working our socks off"
Tomos Watkin in Swansea is expecting a large delivery of the gas this week.
"Things have been tight, production is a little bit behind schedule but we are still able to continue," said brewer Gareth Moule.
"But we have been able to adjust our production schedule and work around the shortages to the best of our ability."
Felinfoel Brewery in Llanelli have also been using "close stock management and planning" to try and preserve their supplies.
"It's not an ideal situation for the industry with such good weather and a certain Football World Cup ongoing," said assistant general manager Mike Francis.
"But although stocks of bulk CO2 remain low, we have been working our socks off around the clock to ensure there is still plenty of beer to go around.
"Our message to beer drinkers is: Keep calm and carry on going to the pub."
'It would be a disaster if pubs ran out'
Pubs and bars use a mix of CO2 and other gases to pump beer from the cellar. Without this gas, the beer cannot be served.
But according to Cardiff bar manager Nick Newman, the shortages have not yet been a big issue.
Mr Newman runs city-centre venues Brewhouse, The Philharmonic and Retro.
"We ordered extra supplies of the products that weren't going to be affected, so we would at least have something to offer our customers," he said.
"But as pubs and bars do not use CO2 in the same quantities as big breweries, the shortages have not caused such huge problems in this industry."
With many brewers expecting deliveries later this week, they are hoping supplies will soon be back to normal.
"The advice now is that things should get better for everyone," Mr Newman said.
Meanwhile, Evan Evans Brewery in Llandeilo have been helping out some of the pubs they supply.
The Carmarthenshire brewers said they had enough CO2 to last them at least another month.
"We're looking after our customers. If any of them are affected, we can secure CO2 for them," said owner Simon Buckley.
"It's all about small brewers working together to help pub owners. It would be a disaster if pubs ran out of CO2."