How has Wales been affected by the heatwave?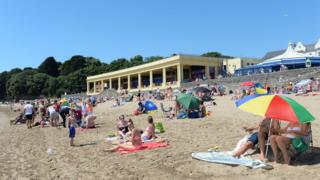 As temperatures continue to soar across Wales, the heatwave has resulted in wildfires, hay shortages and rivers drying up.
The warm weather reached a record-high of 32.6C in Porthmadog, beating its earlier record in the same week.
Wildfires in Cwm Rheidol, Ceredigion, and Maerdy, in Rhondda Cynon Taf, have left land scorched.
So how is Wales coping as the heatwave enters its second week?
River levels nearing "record lows"
Data from the Natural Resources Wales river level monitoring stations show many rivers in Wales are exceptionally low, with some approaching record low levels.
The river Teifi at Llanfair, Ceredigion, was recorded as 20cm (8in) at 14:00 BST on Monday. A normal level would be more than 1.2m and the record low there was 16cm in August 2006.
The river Conwy at Cwmlanerch, Conwy county measured 52cm, compared with a record low of 45cm in 1996 and a normal level above 1.7m.
The low river levels have meant fish have been stranded on the riverbed without a way to return to the water flow. One man took to twitter to voice his concerns:
David Charlesworth, from Natural Resources Wales, said: "Protecting Wales' rivers and the wildlife that relies on them is one of the most important jobs that we do. Smaller watercourses can dry up in the hot, dry conditions we're seeing across Wales at the moment and people are rightly concerned about fish in our smaller streams.
"In certain situations, like a large pollution incident, we might attempt to rescue fish that are at risk of being killed but this isn't usually the case when it comes to low water levels.
"Lower river levels are natural events in hot weather and in one or two cases this has unfortunately led to fish dying."
Fish are being rescued across the border in Herefordshire, after the River Teme dried up.
Livestock food shortage "could ruin small farms"
Some Welsh farmers are fearful the current high temperatures have sparked a shortage of food used to feed cattle and other livestock - also known as "fodder".
William Thomas, who works on his family farm in Northop, said he is worried the shortage could lead to further problems: "It's a dire situation, after a cold winter and spring, the grass hasn't had the chance to grow as well as it should have and now with a lack of rain and hot temperatures during this heatwave, everything has been stunted.
"The warm weather will have a knock-on effect; we've had to start using our winter fodder because we aren't producing enough ourselves right now, which will then leave us short for the following winter."
He added: "My advice to people is to buy fodder early, buy now, and store it for the winter. This shortage could lead to a really bad situation, it could ruin small farms."
NFU Cymru President, John Davies said: "The dry weather is affecting water supplies, with reports of many farm wells, ponds, ditches and some boreholes running dry. The priority for livestock farms will be protecting the welfare of their animals, putting plans in place to ensure these animals' needs are met, making sure they have access to fresh water and shade from the sun.
"We've heard of farmers who are already using their winter supplies of fodder to feed livestock and with fodder already at a premium this could become a real problem later in the year."
Wildfires
Firefighters have been battling a wildfire in Cwm Rheidol for nearly a week, with a helicopter dropping water on the mountainside from a nearby reservoir alongside crews from Mid and West West Wales Fire and Rescue.
The wildfire had been burning on and off since last Tuesday, however crews were called back to the site after smoke was spotted.
A new fire has been discovered in Aberdare on Monday, with a police helicopter being sent to a large forest fire near the Bryn Pica landfill site in Rhondda Cynon Taf.
Elsewhere, another blaze was tackled in Maerdy over the weekend after a large wildfire broke out on Friday.
Another helicopter was brought in to drop water down onto the fire, which covered more than 14 acres.
North Wales Fire and Rescue Service said it was being "flooded with calls about fires in the open".
There are also fires in Talsarnau, Rhiw and Llanycil and Bangor Mountain in Gwynedd and Newborough Forest, Anglesey.
UV levels "very high"
The Met Office has warned UV levels in Wales will be "very high" as the heatwave enters a second week.
The UV index warning will reach level eight in some parts of Wales. Levels eight to 10 are classed as "very high", with level 11 being the highest on the UV spectrum, which is "extreme".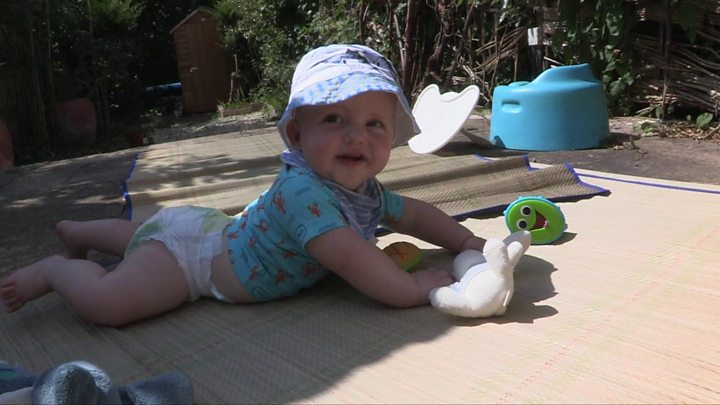 Many schools across Wales have relaxed school uniform rules during the warm weather, however some headteachers have been urged to "rethink" their uniform policies as parents have complained of unfair uniform expectations for pupils during the heatwave.