First Jo Cox Cymru awards honour community champions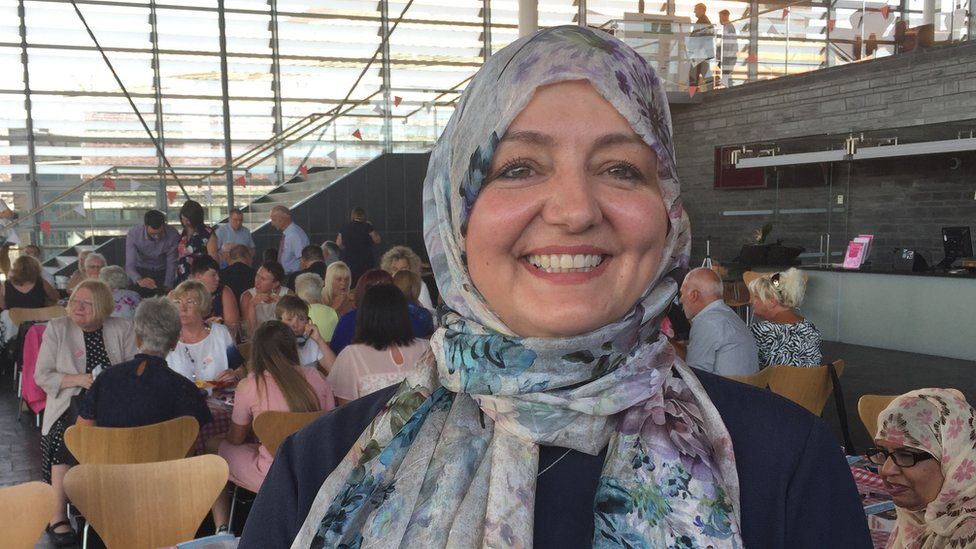 The finalists of a new award recognising the efforts of individuals in improving the lives of people in their communities have been revealed.
A domestic abuse support worker and the organiser of a football academy for autistic children were among those recognised by the Jo Cox Cymru awards.
Labour AM Eluned Morgan, who sponsored the award, said it highlights work on issues Mrs Cox "cared so deeply about".
Ms Morgan worked with Jo Cox in the European Parliament.
Heather Aboulgasem, who works for the BAWSO organisation in Cardiff as an advocate educator, won the Jo Cox Women's Champion award.
She provides support to vulnerable and hard to reach victims of domestic abuse, and works with local GPs to encourage the early identification and referral of women to the service.
As well as helping women suffering domestic abuse on an one-to-one basis, she also delivers training to GPs and medical staff.
She said she was "very humbled" to win. "It really touched my heart and brought a tear to my eye", she said.
Andrea Smith, from Lower Cwmtwrch in Swansea Valley, won a Jo Cox Loneliness Champion award. She was recognised for her work establishing a football academy for autistic children at Cwm Wanderers Club in September last year.
"My eldest son, Staffan, is on the spectrum. He was asking me for a couple of years if he could go play football in the mainstream, Cwm Wanderers team," she said.
"I knew he wouldn't be able to cope with the challenges of having multiple instructions given to him, shouting from him from the sidelines.
"It makes a massive difference. For the children on the spectrum, they come every week and feel they can make friends."
The final award - Community Champions - was handed to Pat Thomas and Beryl Owen, who are the main organisers of the annual Fun Run and Agricultural Show events in Trap, Carmarthenshire.
The two raise cash for charity and are also involved in the village's Women's Institute.
Ms Morgan said: "Jo believed that we have more in common than that which divides us and this award was founded to highlight the fantastic work happening all over Wales on the issues Jo cared so deeply about.
"I could think of no better way to celebrate her legacy or to share her message of unity and compassion that to pay tribute to the kind and selfless acts happening in Welsh communities every day."
The awards, which were backed by the Jo Cox Foundation, were judged by the former head of BBC Wales, Menna Richards, Steve Francis of Global Radio and the Western Mail's Catrin Pascoe.
They presented the awards at a ceremony in the Senedd on Monday.