Tributes to pioneering Welsh doctor Julian Tudor Hart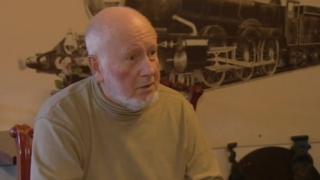 Politicians, academics and doctors have paid tribute to Welsh GP Dr Julian Tudor Hart, who died on Sunday aged 91.
Dr Hart was best known for his 1971 "inverse care law" theory, outlining how those most in need of health services had the least access to them.
Writing on Twitter on Sunday, Labour leader Jeremy Corbyn called Dr Hart a "pioneer of quality primary care".
"We will continue to be inspired by his work to campaign against inequalities in healthcare," he wrote.
Dr Tudor Hart was born in London in 1927 into a staunchly left-wing family.
His father Alex volunteered as a surgeon with forces fighting Franco in the Spanish Civil War, and Dr Tudor Hart followed in his footsteps, studying medicine at Cambridge.
After a decade in academic research, in 1961 he moved from London to the mining community of Glyncorrwg, Neath Port Talbot, where he worked as a GP for 30 years.
'True giant of the NHS'
He stood unsuccessfully for the Communist Party of Great Britain in the Aberavon seat in the 1964, 1966 and 1970 general elections.
But it was here that he also established the first recognised research practice in the UK.
In 1987 he proved that his focus on how lifestyle factors influence health meant that deaths under age 65 in Glyncorrwg were 28% lower than in nearby Blaengwynfi.
He also became the first GP to routinely monitor patients' blood pressure regardless of symptoms - reducing premature deaths from hypertension-related illnesses by 30%.
Former Welsh Government health minister Dr Brian Gibbons, who worked alongside Dr Tudor Hart at his Glyncorrwg practice for 15 years, believes his political beliefs helped shape the type of doctor he became.
"He was a fierce believer in and defender of the NHS," he said.
"He felt passionately that good healthcare was the right of everyone, and that services couldn't be targeted at those most in need unless the NHS was free of market influences and allowed to concentrate solely on patient welfare.
"He remains one of the true giants of the NHS."
Dr Tudor Hart became the first honorary president of the Socialist Health Association.
In 2006 he was also awarded the Discovery Prize by the Royal College of General Practitioners - a national award given every three years for outstanding research in general practice.
His nomination read: "His ideas and example pervade modern general practice, and remain at the cutting edge of thinking and practice concerning health improvement in primary care."