NHS at 70 celebrated in Cardiff Llandaff Cathedral service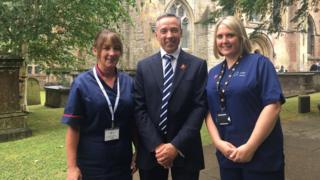 People from across NHS Wales came together with the Prince of Wales to celebrate its 70th anniversary.
Members of staff representing the seven Welsh health boards were at the service at Llandaff Cathedral in Cardiff on Wednesday evening.
Aneira Thomas, the first NHS-born baby, and Dennis Moss, a retired paramedic who helped after the Aberfan Disaster were among those at the event.
Staff members also read statements about what the NHS meant to them.
There were speeches and readings from the Bishop of Llandaff, First Minister Carwyn Jones and Health Secretary Vaughan Gething, who read Aneurin Bevan's 'In Place of Fear'.
A piece from poet Gillian Clarke called Birth was read in public for the first time and Casia Wiliam, Children's Poet of Wales, read out Ti for all the children's wards in Wales.
The Archbishop of Wales also led a blessing and Aneira Thomas laid flowers at the bust of Aneurin Bevan.
Speaking on the eve of her 70th birthday, Ms Thomas, who was born in Carmarthenshire and named Aneira in honour of Aneurin Bevan, said NHS staff were "true heroes."
Ellen Mann, who had a heart operation in 2004 and worked for the NHS for more than 50 years, said: "I owe my life to the institution for which I worked. I feel proud to have devoted my working life to the NHS."
Sara Goode said: "It is a privilege to be associated with a body which delivers free care of the highest quality to all classes and discriminates against no-one."
Mike Peters from Rhyl-based band The Alarm performed 'Walk forever by your side'. He and his wife, Jules have both battled cancer in recent years.
"I'm very grateful to be alive and that's thanks to the NHS, which is here for all of us," he said.
Cliff Powis, 68, the first paramedic in Wales, said it was "an absolute honour to be here tonight".
Following the service, Prince Charles presented NHS commemorative coins to primary school children who won a Welsh Government competition to draw how they thought the NHS would look in the future.