Motorbike rider in shorts and flip flops badly injured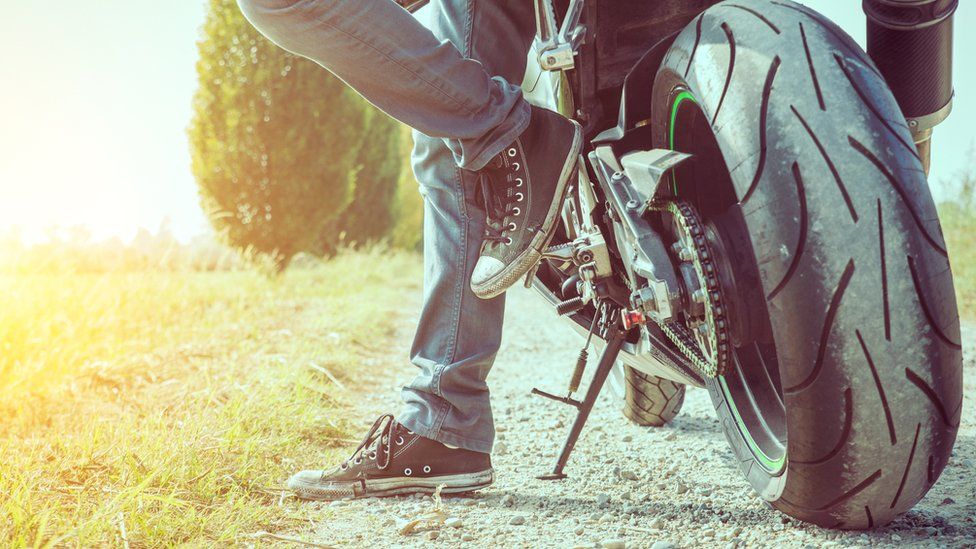 "My shorts disintegrated. My left buttock is gone completely." This is the painful reality of what happened to one man when he went out on a motorbike without protective clothing.
The 42-year-old rider from Cardiff was a pillion passenger when he came off the bike on a gravel track.
He is now being treated at the Welsh Centre for Burns and Plastic Surgery at Morriston Hospital in Swansea.
The biker is urging riders to make sure they wear proper bike safety gear.
"Take time and put your protective clothes on. It could save your life," he said, from his hospital bed.
The man, who wished to remain anonymous, said he had been out celebrating his birthday when the accident happened.
"I hopped on thinking it'll be a five-minute ride to cool me down.
"I didn't put a helmet on, no safety gear, nothing. I had flip flops on, shorts and a vest."
After coming off the bike, he was taken to hospital with a broken hand, a head wound, and extensive abrasions to his arms, legs and buttocks.
His wounds had to be cleaned-out by medical staff under anaesthetic, while he was given morphine to help combat the pain.
"They thought it was really bad gravel in my wounds and when they started cleaning them out they realised it was my shorts," he said.
He is now waiting for dressings to be changed again later this week, when a decision on further treatment will be made.
Consultant surgeon Hywel Dafydd said: "It's simple physics - the soft and wobbly human body versus the hard gravelly road surface. Essentially what you get is an 'abrasion' - so, a scrape - a bit like the graze you might get on your knee if you fell over running.
"But going over 30mph the degree of tissue damage and contamination is many, many times worse - sometimes bone-deep. It can cause lifelong scarring, and it damages everything between - your muscles, tendons and nerves."
The doctor demonstrated the brutal treatment needed just to clean wounds on the BBC's Crimewatch Roadshow, using a piece of meat rubbed on the road.
He warned it often meant using a scalpel to cut away tissue to remove the ingrained dirt.
"Where your soft tissue is particularly thin - so on your ankles, elbows, wrists and face, even abrasions can end up going into bone or joint, and can mean amputation of body parts," he added.
Insp Rob Gwynne-Thomas, from South Wales Police, said the hot weather was proving a potential deadly temptation to motorcyclists to ditch their leather trousers, jackets and gloves.
"What you are finding is riders are riding in t-shirts, shorts, trainers - and even flip-flops," he said.
"If you come off in a crash you are potentially going to have some pretty serious injuries."
He advised all bikers to wear protective jackets, trousers, boots and gloves, along with a helmet - which is the only item legally required.
"There is no legal requirement to wear safety kit, so what we are doing is educating and engaging with motorcyclists to show the benefits of wearing that kit," added Insp Gwynne-Thomas.