Welsh beaches and surf culture 'fuel skin cancer rise'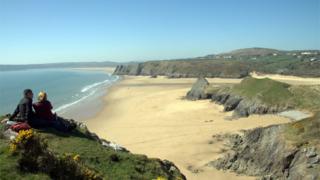 Beautiful beaches and a "surf culture" are two of the factors behind a rise in skin cancer rates in Wales, a leading oncologist has said.
Prof John Wagstaff, director of the Wales Cancer Research Network, said Wales and Cornwall had two of the highest rates of the disease in the UK.
The warning comes after seven people were admitted to hospital for sunburn.
Figures show melanoma - a cancer caused by sunburn - is among the fastest-increasing cancers in Wales.
There has been a 58.3% increase in incidence rates of melanoma from 2003-2005 to 2013-2015, the second biggest increase behind liver cancer, according to Public Health Wales.
There are significant regional variances across Wales, with the melanoma rate in Cardiff and Vale 32% higher than the lowest rate in Hywel Dda.
Staying safe in the sun
Wear protective clothing
Use SPF 30+ sunscreen with at least four-star UVA protection
Wear a wide-brimmed hat
Wear quality sunglasses
Seek shade from the sun whenever possible
"Generally, the further west you go the higher the incidence of melanoma," added Prof Wagstaff.
"Wales and Cornwall have the highest incidence in the UK. This is probably because there is more sunshine and a surf culture."
Prof Wagstaff explained there are two types of skin cancer: melanoma, which attacks pigment-containing cells, and squamous cell carcinoma (SCC) which is the most common.
"Melanoma is the rarer of the two but is the most dangerous because it can spread around the bloodstream and lymph cells - it used to be a uniformly lethal condition," he said.
"It is caused by sunburn and the average age of people who have it is 53."
And while survival rates among people with melanoma have improved "dramatically" - from an average of just nine months to three years - the disease is still deadly, he added.
See your GP if your mole:
Gets bigger
Changes shape
Changes colour
Bleeds or becomes crusty
Is itchy or sore
The problem of sunburn is getting worse in the UK but Prof Wagstaff said it was avoidable.
"In Australia, there has been a campaign for the last 25 years - on their beaches and in schools - telling people to keep their t-shirts on and put the sun block on.
"Incidence in Australia is falling quite dramatically while in the UK, incidence has doubled every 10 years for the last 40 years.
"Sunburn is a public health issue which hasn't been properly addressed."
'Sun cream is a must'
Caerphilly minibus driver Carl O'Brien was shocked to discover he had pre-cancerous cells on his arm in 2016 after visiting his GP for an unrelated matter.
"I nearly fell off my chair," he said. "I knew nothing about it.
"As a driver I was more at risk - it is only the windscreen that protects you from the sun, not the side windows.
"Ever since I have worn a long-sleeve t-shirt while working.
"Wearing sun cream is a must, especially if you are fair - it is an absolute must."
And Mr O'Brien said he was living proof of the importance of keeping an eye on your skin and seeing your GP if you are worried.