Hot weather boost for cider and wine producers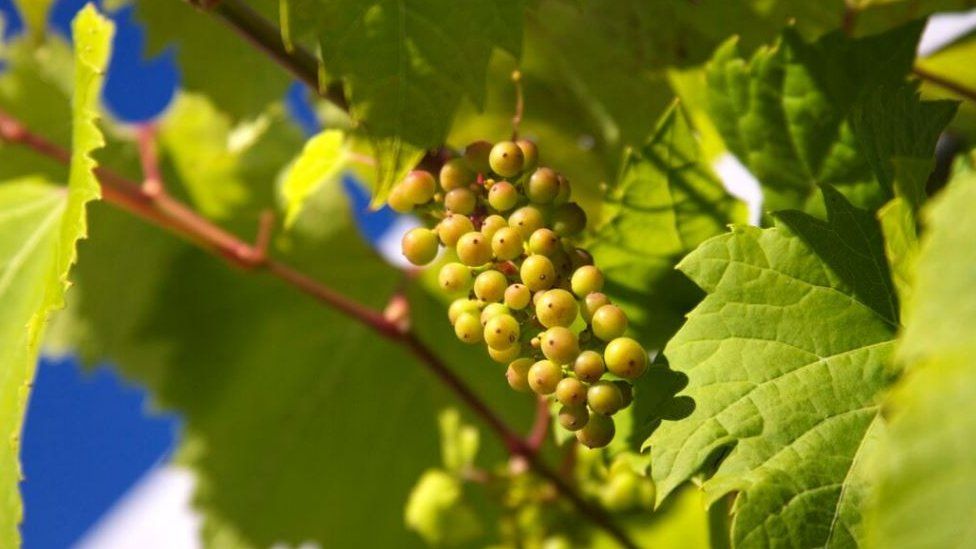 The heatwave is delivering a boost to cider and wine producers in Wales but some have warned a continuous lack of rain could end up damaging next year's crops.
The sun is good for grapes which could lead to better quality wines next year but rain is needed for them to swell.
It is a similar situation with apples.
"Our sales are up from June 2017 and we can see the demand is huge so far in the first couple of days in July," said Nic Gronow, from Gwynt Y Ddraig cider in Llantwit Fardre, Rhondda Cynon Taff.
"The CO2 issue means we are out of stock in a large amount of our range.
"We expect to get things back to normal next week but I think it will be in small quantities until the situation's back to normal.
"It's been temporarily a bit difficult and a lot of our customers have been understanding. We've been fortunate we do a variety of different produce that doesn't require CO2."
And Sally Perks, who is from Raglan Cider Mill and is also chairwoman of the Welsh Perry and Cider Society, said the sales were "good news".
She added: "We will need more rain. There's a lot of fruit on the trees but the more stress on the trees [from lack of rain], the more fruit it will drop."
She said less rain would mean more sugar in apples but the alcohol content would also be higher.
Ben Caplin, owner of Apple County Cider in Newcastle, Monmouthshire, is also hoping for some showers.
"We definitely want to have some rain in the next couple of weeks," he said. "If we haven't had any in a month's time, we will start to worry a lot.
"The apples will shrink in size massively."
However, winemakers have less concerns over the lack of rain.
Daniel Meatizzi, co-owner of Cwm Deri vineyard in Narberth, Pembrokeshire, said: "If it doesn't rain the entire summer, it is good for the vines.
"The hot weather is very, very good for the vines. It's because vines can absorb water through the winter so that they have the water they need through the summer.
"The hot weather also averts many diseases which you can get in damp and medium temperatures."
Ryan Davies, from Llanerch Vineyard in Pontyclun, Rhondda, Cynon Taff, said the hot weather was "absolutely fantastic".
He added: "If you think of Burgundy and Bordeaux, they don't need that much rain. Roots are deep underground so it's fine."
While the fruit is taking in the sun, it has proved difficult for some owners.
Colin Dudley, from Parva Farm, Tintern, Monmouthshire vineyard, said he can only go out first thing in the morning and at night due to the heat.
"It's hot out there", he joked.
"The vines have finished flowering and there seems to be a decent set. They are growing like mad."
He said dry weather gives the grapes a more concentrated flavour but less juice, so some rain will help the grapes swell.