Trail traces journey of 'back from the dead' outlaw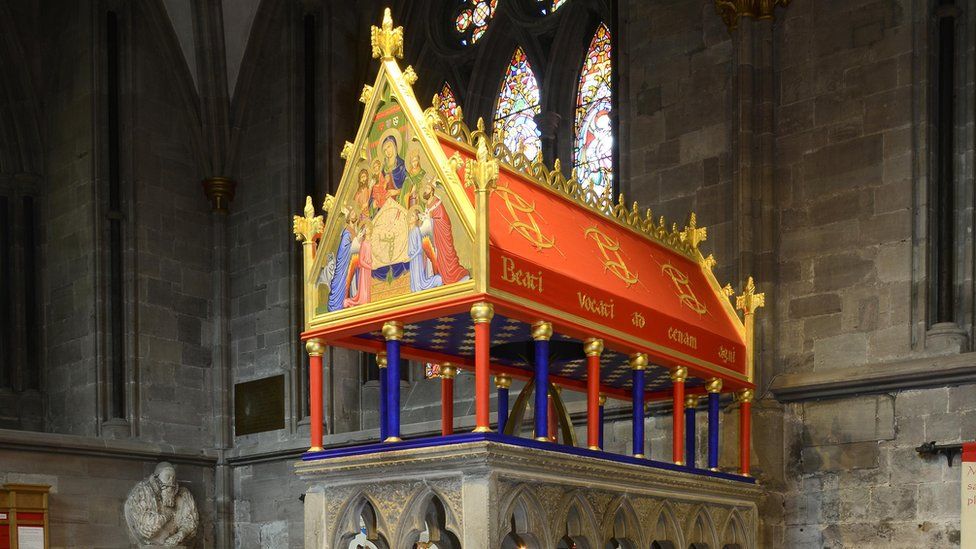 Visitors to the Welsh borders are being given the chance to retrace the pilgrimage made by a medieval outlaw centuries ago.
The St Thomas Way runs from Swansea to Hereford.
It follows the route taken by William Cragh, who was hanged in 1290 but seemingly came back to life.
He took the road trip to give thanks at the shrine of St Thomas of Hereford, who he had prayed to before his execution.
The heritage route is based around 13 locations from Swansea to Hereford.
Cragh was executed by Norman lord William de Briouze in Swansea after being charged with burning down the castle at Oystermouth and rebellion.
But he apparently came back to life in what was understood by local people as a miracle of St Thomas of Hereford, with the testimony of medieval eyewitnesses still surviving in a manuscript in the Vatican library.
Cragh then set off from Swansea to Hereford on a pilgrimage, together with Lord William, the man who tried to hang him, and his wife Lady Mary de Briouze.
Canon Chris Pullin, of Hereford Cathedral, said: "Though less well known today, St Thomas of Hereford was an important saint in the Middle Ages and his shrine was a major pilgrimage destination.
"We hope this new route will encourage visitors to explore his story, and to experience the benefits of pilgrimage for wellbeing, recreation and renewal."
Locations on the route include the castle at Caerphilly, Hereford Cathedral, the medieval hermitage and holy well at Patrishow, Powys, the ruined keep at Longtown, Hereford, and the Norman church and lost medieval village at Kilpeck, Herefordshire.
The newly recreated trail was launched with a special day of events at Hereford Cathedral on Saturday.
Catherine Clarke, professor of English at the University of Southampton and director of the project, said: "It brings together new research, the latest digital technology and medieval history to offer an immersive and engaging experience of the past."