Police investigate after cow seen in back of a car on M4 near Briton Ferry
By Benjamin Wright
BBC News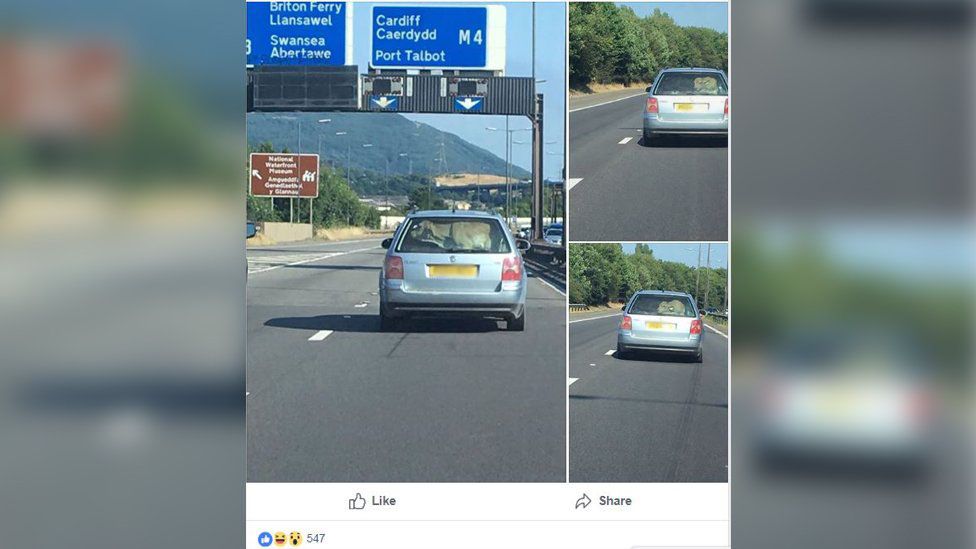 Police have launched an investigation after reports a cow was seen in the back of a car on a motorway.
Motorists were stunned after apparently seeing the large animal in the light blue 04 reg Volkswagen Passat on Friday evening.
South Wales Police said officers were looking into whether any road traffic or animal welfare offences had occurred.
The RSPCA said it was "extremely concerned" about the images.
Photographs being shared on social media appear to show a small or young cow taking up most of the back window of the estate car.
One image shows the car going past junction 42 of the eastbound carriageway.
It is not known why the animal was in the back of the car.
An RSPCA spokeswoman said: "This is a completely unacceptable way to transport a large, farm animal.
"This represents an animal welfare concern but also a risk to the safety of the driver and other road users.
"We would strongly urge people never to transport an animal like this."
Penalties for overloading a car include fines of up to £300 as well as three penalty points.
The AA said overloading vehicles can put strain on the tyres and affect the handling and the braking - which also affects stopping distances.