No water concern in Wales despite receding lakes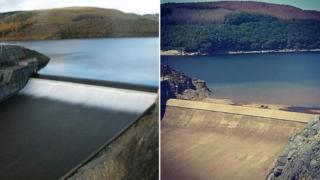 Water levels in Welsh reservoirs are holding-up, insist officials - despite images of lakes receding at a rapid rate during the current heatwave.
Welsh Water said levels are "around where we would expect for the time of year and under current conditions".
Natural Resources Wales said some rivers were at low levels following the hot weather.
A north-west England water firm said it was moving some water it draws from Wales to dry parts of its region.
United Utilities, which abstracts water from the River Dee in north Wales, and Lake Vyrnwy in Powys, said there had been a "massive increase" in demand in Greater Manchester, with one reservoir near Bolton drying up.
In Wales, warm weather reached a record high of 32.6C in Porthmadog in Gwynedd at the end of June and the heatwave has continued around the country into July.
However, the latest report on reservoirs in Wales for the month found all were "within normal operating ranges" for the time of year.
But, despite this, some are looking particularly parched.
The Llyn Brianne reservoir is fed by the River Towy, and straddles the borders of three counties, Powys, Carmarthenshire and Ceredigion.
Images clearly show dry areas of the reservoir, which was built to control flow on the Towy, helping provide water to a large part of south and west Wales.
WHEN DOES A HEATWAVE BECOME A DROUGHT?
Welsh Water, which is responsible for supplying 1.2 million homes and well over 100,000 businesses, would have to enforce measures to deal with drought conditions across most of Wales.
How it responds is set out in its Drought Plan, agreed every five years with the Welsh Government and Natural Resources Wales, and governed by strict regulations.
According to the plan, there are three triggers which mean Wales is entering a period of drought: Lack of rain, reservoir levels, and demand for water.
Rainfall: The plan states that if rainfall falls below "significantly dry month" levels for two months in a row, early stages of the drought plan liaison with Welsh Government and Natural Resources Wales (NRW) would begin.
Reservoir Levels: Water levels are constantly monitored and have marked points that would indicate a "developing drought" situation, followed by drought and severe drought indicators.
Elevated demand levels, especially in areas not served by reservoirs, act as drought indicators, and taken into account with weather conditions and forecasts, could trigger drought action.
What happens:
The drought plan sets out actions for three scenarios:
Developing drought: The message is "use what water you want - but don't waste it". Temporary usage bans, such as hose-pipe bans would be prepared. They need to be approved by Natural Resources Wales.
Drought: Temporary usage bans brought in - as the public is urged to conserve supplies.
Severe Drought: Non-essential water use bans introduced. The public asked to "think carefully about the water you use". As a last resort, Drought Orders restricting supplies could be introduced.
Welsh Water, a not-for-profit firm, has insisted it is a long way from where Wales was back in 1976, when a drought saw dry reservoirs.
It is pumping an extra one billion litres of water a day from reservoirs into its system to meet hot weather demands.
Managing director Peter Perry, said: "The water levels in our reservoirs is around where we would expect for the time of year and under current conditions we don't have concerns about the water levels across the area we serve.
"But customers are obviously using much more water in this hot weather and so we need to ensure that we can get the water to customers. Our staff are working day and night to help spot and repair leaks and using tankers to put extra water into the network.
"We always ask customers to work with us. If they spot a leak, please let us know and be mindful of how much water they are using. While encouraging everyone to stay safe and drink water while it's hot, we should always avoid wasting water so that we can manage the demand for everyone."
Natural Resources Wales' water manager Natalie Hall told BBC Radio Wales that some river levels would also become a cause for concern for fish and wildlife, if the heatwave continues.
"They are not at record low levels at the moment, but were already seeing some low levels with risk to fish," she said.
She said the Welsh Government environment body was enforcing licence limits on the amount of water taken out of rivers, and was constantly monitoring the situation.
"We are doing everything we can - obviously it is a natural event and the environment can respond to situations like this," she added.
"I'd encourage people to start just thinking about the water they use - it is always sensible to use water efficiently."