Spending per pupil down but Wales-England gap narrowing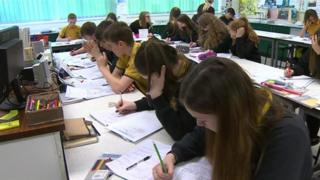 There has been a £300 drop in the money being spent per pupil in Wales over the last eight years, research shows.
It means there is about £100 less per pupil being spent in Wales compared to England.
But the Institute for Fiscal Studies suggested the spending gap had been "virtually eliminated" due in part to increasing pupil numbers in England.
But one teaching union said the gap was much bigger, and pupils were being "short changed".
The analysis by economic research institute IFS is based on spending on pupils, aged three to 18, in state education.
Previous Welsh Government statistics suggested spending per pupil was about £600 lower in Wales than in England in 2009-10.
After that, the Welsh Government stopped publishing spending comparisons because it said changes to how schools were run in England made it difficult.
But the IFS analysis now challenges the size of the original gap, saying it was about £300 in 2009-10.
It reassessed pupil numbers in England to include more children in private nurseries, paid for by the government.
Back in 2009, school spending per pupil in Wales was about £6,100 per pupil. Since then school funding per pupil has fallen by about 5% after accounting for inflation.
That is a £300 fall, down to about £5,800 at the latest count.
Rebecca Williams, policy officer for Welsh teaching union Ucac, said: "On the surface it looks encouraging doesn't it, that is that funding levels in Wales and England have closed?
"But in reality, if you go a little bit under the surface, it's not a positive story.
"What's important to note is that it's fallen in both countries since 2009 and that's what children are feeling the effect of in schools."
Rex Phillips, of the Welsh branch of the NASUWT union, said its own figures showed a much larger gap in funding, with about £700 less per pupil in Wales, compared to with England in 2015-16.
"As a result pupils in Wales are being short-changed, too many subjects have been abandoned and too many talented teachers and support staff have lost their livelihoods," he said.
"The challenge on school funding must be addressed as a matter of priority and the years of underfunding of schools in Wales must be brought to an end so that children and young people can be provided with the best life-chances."
You might also like to read these stories:
How schools work out their budgets
How much money does a school get?
At St Mary's RC Primary School in Bridgend, they have 239 pupils.
It gets a delegated budget of just under £718,000 (from Welsh Government, passed on via the local council) which includes an education improvement grant and a pupil deprivation grant of £28,000 - to support those from more deprived backgrounds.
But as a primary school, St Mary's gets £1,100 less per pupil per year than its feeder secondary school; while its pupil per head funding for this next year is just £3 more than it was five years ago and it is lower than the average for primary schools in the area.
Where does the money go?
About 90% at St Mary's goes on staffing, the bulk on teachers and learning support staff. Then there is IT, "a huge cost to schools these days," says head teacher Lyndon Watkins. There is also the likes of books, pencils and other resources. There is also the upkeep of the buildings.
What does this mean for the head teacher?
Mr Watkins said: "We get £3,009 per pupil [2017/18] - we've been funded at about this rate since 2011/12, so we're trying to raise standards but we've had a standstill position while costs have gone up."
He has lost four staff members to save £98,000 over the last two years.
Mr Watkins said councils pass on more than they used to - his school gets more than 90% of money direct from Bridgend council but some is still held back for county-wide priorities, including a festival of learning.
But funding for school transport comes centrally.
Luke Sibieta, IFS research fellow, said school spending had been relatively protected compared with other public services across the UK.
Meanwhile, the funding gap between Wales and England has narrowed because school spending per pupil has fallen at a slower rate in Wales (5%) compared with England (8%).
One reason is that there have been an extra 700,000 pupils in England - a 10% rise - over the last eight years, while pupil numbers in Wales have been broadly constant.
Mr Sibieta said that had created "a relatively benign environment" so policy-makers in Wales have been able to cut spending per pupil by less than in England.
Other recent figures show there are wide variations on per pupil spending within Wales.
Powys spends the most per pupil at £6,456 while the Vale of Glamorgan has the lowest spend at £5,107. Powys has the largest increase in spend per pupil over the previous year of 4.9%. Ceredigion has the largest decrease of 2.1%.
There have been calls for a change to the formula which determines how much money is allocated to different councils to spend on schools.