Kiara Moore: Father speaks of 'freak accident' of child's death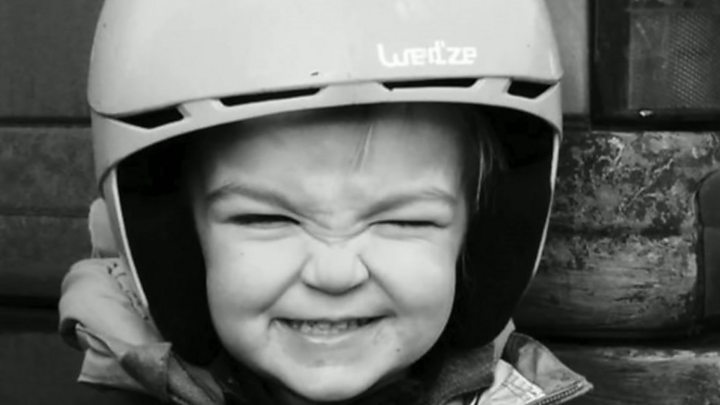 The father of a two-year-old girl who died when her parents' car rolled into a river has said there was "no point in blaming anyone".
Kiara Moore was found by divers in the River Teifi in Cardigan, Ceredigion in March - a week before her third birthday.
Her father, Jet, said he would "imagine" she was still alive and still read her favourite book regularly.
"There is no point in blaming anyone," he said. "It was a freak accident."
In May, Dyfed-Powys Police said inquiries had concluded and no charges would be brought.
"It doesn't seem that she has gone," said Mr Moore, in an interview with BBC Wales. "You still imagine she's there - maybe that's my way of dealing with it, but her happiness and fun is still with me."
Mr Moore and his partner, Kim Rowlands, initially thought their car had been stolen when it vanished from the slipway outside their business on 19 March with their daughter inside.
But after a police search the silver Mini was found in the river, along with Kiara's body.
In a Facebook post written shortly after her death, which has since been deleted, her mother Kim said her "beautiful baby girl" had died, adding: "Due to my own stupidity, I will have to live with the guilt of this for the rest of my life.
"Mummy loves you baby girl and I'm so sorry."
Mr Moore said: "There is no blame for that day. There is no point in blaming anyone.
"If you go back to that day there was so many little things that happened that, if you were to try and do it again, wouldn't happen.
"At worst, what could I blame? I could blame the handbrake on the car, maybe, if I felt the need to.
"Sometimes your mind wanders off to what happened. Could any of us have changed anything? We could have not got out of bed that day, we could have not gone to work. But that's all could ofs - there's no point really of dwelling."
Mr Moore said he worried that he would forget his daughter, and hoped something positive would come out of her death.
"She was, I suppose, hopefully like me a bit, just enjoyed being outside constantly, enjoyed being around people," he said.
"She absolutely loved water, whether that was a swimming pool or out and about with us, and then on the farm with grandad, getting muddy, jumping in the puddles, being a bit like Peppa Pig."
He said he continues to read one of her favourite books, Dear Zoo, to remember his daughter, said the family carried a little Donald Duck toy in her memory when they went on adventures.
The first trip they took as a family after her death was up Snowdon, in north Wales, where they scattered her ashes.
"She was everywhere with us, so wherever we have been since, we can say: 'Oh yeah, Kiara was here doing this or that.' In three years she did a lot," he said.
Mr Moore continues to run his outdoor pursuits business close to where his daughter's body was found, but said being on the water had given him a sort of therapy.
"[The water] has given me so much, but it's also taken away something so special," he said.
"It took us a while to decide whether we were going to come back, but the river and the area is a beautiful area. The accident that happened on that day was a freak accident.
"I'm still constantly thinking about her and that it happened, but then I also try and lead my mind into a positive way of how much fun she also had.
"You've got two choices in my mind - you give up or you carry on", he said, "I couldn't just sit indoors and give up."
Mr Moore is appealing for help and support to set up a foundation in Kiara's name to offer adventure therapy to other bereaved families.
"There are definitely moments when it is not so positive, when it is hard," he said.
"The hope for any of your kids is that they go on to do great things. She hasn't got that now, but in three years she inspired a lot of people, even at her funeral I think there were 500 people there, and for a three year old, to have that many people at your funeral, that's pretty impressive.
"There's absolutely nothing we can do about what happened that day, it's one of those awful accidents, we can't change that, but I guess we can move forward and make hopefully the best of what we can as a life in the future.
"I hope this can be Kiara's legacy. That it can do something of good."
An inquest into Kiara's death has been opened and adjourned.