AI could answer Cardiff bin collection questions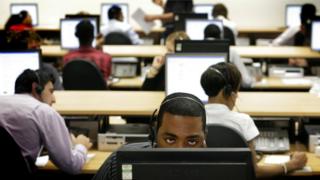 Questions about why your bin has not been collected could soon be answered by artificial intelligence in Cardiff.
A "virtual assistant" would allow staff to focus on more "complex enquiries that require direct human interaction", a council report said.
Meanwhile, Monmouthshire council said it plans to use a "chatbot" to answer people's queries online this summer.
Concerns have previously been raised that up to 112,000 Welsh jobs could be replaced by robots by 2030.
But one chatbot expert said they were a "no brainer" for councils looking to cut costs and improve services.
Paul Shepherd, boss of We Build Bots which has been commissioned to create Monmouthshire's system, said dealing with queries about rubbish and recycling collections, for example, were important for the customer but an inefficient use of call handlers' time.
He said artificial intelligence was a simple way to deal with queries that did not require thought or emotional intelligence but it was not yet widely used.
Chatbots the councils are considering provide automated responses designed specifically for an organisation to deal with frequently asked questions.
A report going to Cardiff's policy review and performance scrutiny committee said the "humanized Chatbot" would be used to initially handle waste queries, and would be able to be used across many platforms, including smart home devices, like the Amazon Echo.
It says that the benefits of using artificial intelligence include "significant improvements" for non-native Welsh and English speakers with automatic translation into about 80 languages, and an avoidance of costs associated with sickness, leave, training and recruitment.
"Providing a simple, accessible route for customers to find information and complete automated transactions will encourage 'channel shift' away from the traditional, expensive contact routes - telephone and face-to-face contact," the report reads.
"Customer and employee experience is expected to improve alongside the projected cost avoidance through re-allocation of resource," it said.
It is being considered as the authority looks to make £14.3m in savings this year alone.
Agreement to pay for the project will be sought next month.
Monmouthshire council expects its service to be up and running later this summer to allow customers to raises queries through its website and utilise Facebook's messenger service.
Dr Jan Green, a senior business lecturer at Glyndwr University, Wrexham, said the use of technology could save organisations "an awful lot of time and resources".
"When technology works well, it works very well," she said.
But a report by think tank The Centre for Cities has previously warned that almost one in four jobs in Welsh cities could be lost to robots by 2030 unless skills change.