Disability sport: 'Lack of basics' stops people taking part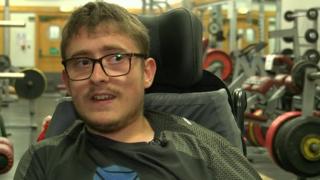 A lack of basic facilities and equipment prevents disabled people from taking part in sport, campaigners have said.
They criticised a focus on finding future Paralympians rather than providing grassroots support.
Feedback commissioned by Sport Wales showed people thought access to sport for disabled people was "very patchy".
Disability Sport Wales said its feedback told "a positive story" and opportunities had increased.
Josh Reeves, a 21-year-old media student from Cardiff, tries to go to the gym at least once a week and has taken part in activities such as wheelchair karate.
Mr Reeves, who has cerebral palsy, said there were only four machines he could use at his nearest gym, with a membership costing £35 a month.
Instead he uses a cheaper gym that is more accessible, calling the general picture "shocking".
"There should be definitely more sports and facilities out there for people with disabilities, because society only focuses on the able bodied people and that's not on," he added.
Dan Williams, 26, who is registered blind, set up a monthly tandem cycling group for visually impaired riders in Cardiff.
He was diagnosed with retinitis pigmentosa, an eye condition which causes gradual sight loss, at the age of eight.
"I don't want to be the next Paralympian, I just want to ride a bike like everybody else," he said.
The group is struggling for volunteers to ride on the front of the bikes, as well as equipment.
"It's a disgrace," he said. "We only have four tandems at the moment and we would like to have a fleet of at least 15 to get a lot more blind and partially-sighted people out there."
Earlier this year, Sport Wales published feedback from about 600 people which will inform its next vision for sport.
It showed "access to sport by disabled children and adults is perceived to be very patchy in many areas and across many sports... with accessible changing rooms and direct access to the sporting facility often lacking".
Disability Sport Wales' CEO Fiona Reid said about 62% of its funding went into grassroots participation and development.
She added: "Changing budgets are making it very difficult for partners to deliver locally and nationally.
"There's definitely a need for collaborative working for creative and innovative ways of finding solutions... to centres closing or in some cases centres being fairly dated and there not being the funding to make more accessible."